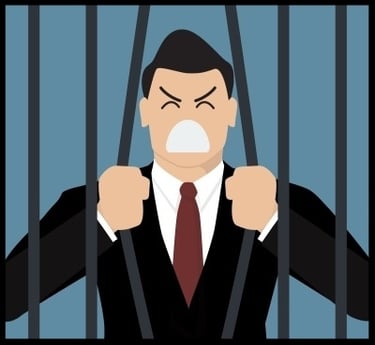 On Tuesday, May 2, 2016 a Manhattan federal court convicted Dionysius Fiumano of "orchestrating a massive mortgage modification scheme through which he and his conspirators defrauded more than 30,000 American homeowners out of a total of approximately $31 million," according to Christy Goldsmith Romero, the Special Inspector General for the Troubled Asset Relief Program (SIGTARP).
Dionysius Fiumano, aka "D", and his co-conspirators oversaw a sales staff of 65 telemarketers and managers from 2011 to 2014. Fiumano was the general manager of sales at Vortex Financial Management, Inc, which was also known as Professional Marketing Group (PMG), and Professional Legal Network. The company was based in Irvine, California and claimed to offer mortgage modification services.
PMG operated somewhat like a legitimate company, buying leads that gave them the contact information of homeowners who were behind on their mortgage payments and in danger of foreclosure and trying to get them to buy their "services."
PMG would aggressively market to these distressed homeowners, telling them in emails and phone calls that their home loan was already under review or approved for a modification that would lower their payment and allow them to keep their home.
Homeowners were promised that, for an upfront fee, PMG could give them an attorney who could help them complete their modification and negotiate the best terms for them. They were told that the money they paid would be used for the loan modification costs, their attorney, or even that it would be forwarded to their lender.
"In reality, they did little or nothing to help these homeowners. And when consumer complaints attracted attention, the co-conspirators renamed their companies to continue the fraud," Romero said.
Romero called these crimes "uniquely despicable" because HAMP is a free federal program designed to help people who were hardest hit by the financial crisis. And, rather than help people who badly needed assistance, Fiumano and PMG only made their problems worse.
Fiumano was convicted of conspiracy to commit wire fraud and wire fraud and could face up to 20 years in prison for each charge when he is sentenced in September.
Two of Fiumano's co-conspirators were also convicted of conspiracy to commit wire fraud and wire fraud.
About SIGTARP

SIGTARP describes itself as a watchdog for American taxpayers. The independent law enforcement agency investigates fraud, waste, and abuse related to the $475 billion Troubled Asset Relief Program (TARP), also known as "the bailout."
The agency's website states that its investigations have resulted in the recovery of $10.24 billion and 147 defendants being sentenced to prison to date.
How To Use HAMP
HAMP can help homeowners who are behind on their mortgage payments avoid foreclosure. If approved for a HAMP loan mod, your payment will be lowered to an affordable portion of your income. It's even possible to reduce the principal owed on your loan. There is no charge to apply, no credit check, and no closing costs.
You don't have to have help to get a loan mod, although most people who apply for one on their own are denied. For that reason, many seek the help of a professional. An experienced pro can indeed help you get a loan modification, but sometimes it can be hard to tell friend from foe.
Avoiding Scammers
It's an unfortunate reality that people who are the most in need of honest help are often the easiest targets for scammers. They're desperate and may be prone to believing what they want to hear. The scam perpetrated by Fiumano and PMG is one of many methods used to take advantage of the millions of homeowners who are concerned about losing their homes to foreclosure.
To avoid losing money to con artists, take a few precautions before you hand over your money. For one, do a little research into the background of any company you're considering hiring. Can they prove their record of success with people in your situation with actual case results? Look up their lawyers on the state bar association's website. Do they exist? If so, is their record acceptable?
You should also educate yourself some on the basics of loan modifications and the government and private programs available to help you avoid foreclosure. There's nothing like a little knowledge to help you spot a bad sales pitch when you hear it.
Keep in mind that HAMP is expiring December 31, 2016, so you need to act soon if you want to take advantage of it.
If you're considering hiring someone to defend you from foreclosure and help you with a loan modification, take a look here and here for more tips on avoiding scammers and here for choosing the best attorney for your needs.
Image courtesy of Sira Anamwong at FreeDigitalPhotos.net