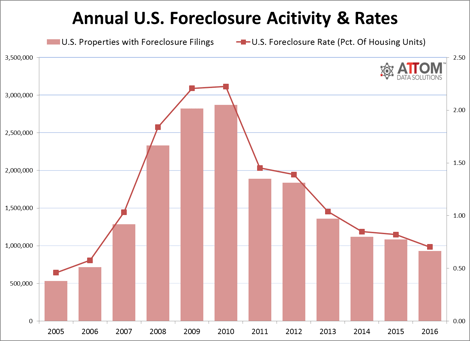 Foreclosure filings in 2016 were at their lowest level in ten years according to ATTOM Data Solutions Year-End 2016 U.S. Foreclosure Market Report.
The report shows 933,045 default notices, scheduled auctions, and bank repossessions for 2016, which is a 14% drop from 2015 and the lowest number of foreclosure filings since 2006, which had 717,522 foreclosure filings.
This is a continuation of a positive trend. Since 2014 the rate of foreclosure has been in an "historically normal range."
Legacy Foreclosures More Than Half The Problem
The report finds that not all mortgage loans are equally as likely to be in foreclosure. Legacy foreclosures, which are foreclosures on loans originated between 2004 and 2008, represented 55% of loans in foreclosure at the end of 2016.
The legacy foreclosure issue is one of the reasons why, despite the lower numbers, the foreclosure crisis isn't over yet. So many of the loans from those years are still in need of a permanent solution. And in some areas of the country legacy foreclosures represent a greater percentage of all foreclosures (76% in Washington, D.C. and 64% in New Jersey).
According to the report "In terms of total number of legacy foreclosures, New Jersey led the way with 32,279, followed by New York (31,838), Florida (29,411), California (17,208), and Illinois (12,244)."

Bank Repossessions (REOs) Down
Bank repossessions in 2016, also called REOs, dropped to their lowest level since 2006, though some states saw an increase. New York saw a year-over-year increase in REOs of 21%, and New Jersey was up 4%. Massachusetts had the largest year-over-year increase in REOs at 61%.
Some States And Regions Much Worse Off
The states with the highest percentage of their housing units in some stage of the foreclosure process in 2016 were: New Jersey (1.86%), Delaware (1.51%), Maryland (1.37%), Florida (1.18%), and Illinois (1.10%).

Among metropolitan areas of the country with at least 200,000 people, Atlantic City, New Jersey had the highest foreclosure rate with 3.39% of its housing units having a foreclosure filing. Number two in the country was Trenton, New Jersey, with 2.16%, followed by Rockford, Illinois with 1.54%, Philadelphia, Pennsylvania with 1.53%, and Lakeland-Winter Haven, Florida with 1.46%.
Average Time To Foreclose At All-Time High
The time it took to go through the foreclosure process in 2016 increased to 803 days on average, which is a 27% increase from 2015. ATTOM reports that the average time to foreclose was more than 1,000 days in eight states, including New Jersey (1,186), New York (1,283), Florida (1,186), Illinois (1,024), and Pennsylvania (1,010).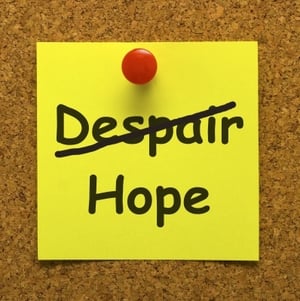 Those are all judicial foreclosure states, which means the bank has to go through the courts to foreclose on your home. That takes more time than in nonjudicial foreclosure states. No one is guaranteed 1,000 days. It could take six months or nine years, but it's going to take some time.
You can draw out the process and use that time to your advantage by working towards a permanent solution, such as a loan modification while you're fighting foreclosure. Although the government's HAMP modification program has expired, it's still possible to modify your mortgage loan through an in-house modification.
A loan modification can reinstate your loan with a lower monthly payment by changing the terms of the loan. Sometimes banks even reduce the amount of principal on a loan when modifying it.
If you don't want to keep your property and owe more on it than it's worth, you can exit on the best terms. Lenders are sometimes willing to pay a homeowner thousands of dollars to move out of the home by an agreed upon date and with the home in acceptable condition. You could also get a deficiency judgment waiver so that you don't owe anything after leaving.
Foreclosures may be in a historically-average range for the nation, but that's irrelevant if it's happening to you. Each household is its own economy, and dealing with the possibility of foreclosure is a crisis for that household. How you respond to the crisis can affect your life for years to come. Beyond the financial consequences for those that go through it, foreclosure has has also been shown to be bad for your health.
The smart thing to do when you're at risk of foreclosure is to work with an experienced attorney who can help you maximize your odds of getting the results you want. A reputable and experienced attorney may be more affordable than you think, and is well worth the investment.