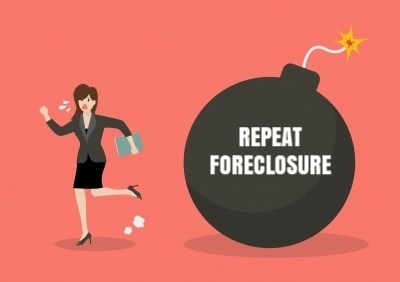 Getting out of foreclosure is only half the battle. The other half is staying out.
After months or years of not making house payments and trying to avoid foreclosure, some homeowners have been able to reinstate their mortgage with a permanent loan modification that gives them the opportunity to keep their home and avoid foreclosure for good.
Unfortunately, some of these homeowners have stopped making mortgage payments again and ended up back in foreclosure.
That's called a repeat foreclosure, and it's been a big problem since the housing crisis began. ATTOM Data Solutions recently reported data on repeat foreclosures. The results show very high rates in some parts of the country.
From ATTOM's April 2017 foreclosure report:
"(T)he highest share of repeat foreclosures in 2016 was in the five boroughs of New York City (54 percent), followed by Los Angeles (39 percent); Miami-Dade County (32 percent); Maricopa County (26 percent); and Essex County (20 percent)...Kings County (Brooklyn) had the highest share of repeat foreclosure starts in 2016 (62 percent), followed by Staten Island (55 percent); Bronx (53 percent); Manhattan (48 percent); and Queens (45 percent)."

If you're in, or have been in, foreclosure, you really don't want to become a statistic in the next analysis of repeat foreclosures. Foreclosure not only harms your finances, it's also been shown to be bad for your health. One foreclosure is more than enough for a lifetime.

While there's always the possibility that something could happen to cause you to stop paying your mortgage,there are some things you can do to put yourself in the best position to perform on your mortgage in the long-term following a near-miss with foreclosure and a loan modification.
1. Get the best loan modification the first time.
Not all loan modifications are created equally. Some mods result in a more expensive monthly payment and an increased principal balance. Others involve a reduction of principal and a lower monthly payment.
A loan modification is a negotiation. Homeowners may accept the first modification they're offered, even though it's not very good because they need something to save their home. This is a mistake if a better deal could have been struck. If you don't know anything about loan mods, you won't know how to evaluate what you're offered.
2. Save your money while you're not paying your mortgage.
This is the smartest thing to do. If you have a job, try putting the money you would have spent into a savings account each month. Call it paying your mortgage, but pay it to yourself so you have that cash after you get a loan modification. If you have that money, you could survive a temporary hardship and avoid repeat foreclosure. If you're currently experiencing hardship, and can't make your mortgage payments, try saving even the partial amount you're earning each month.
3. Don't keep a home you can't afford.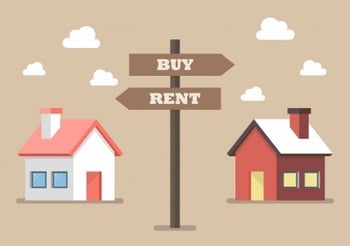 It can be hard to accept that you just don't have the income to afford your home anymore. You have memories with family and friends, you're attached to the community, and moving is a hassle. Still, at some point you have to accept reality and do what's best for the situation you're in.
If you're not sure what to do, click here for an interactive tool that can give you some insight into whether it's better for you to rent or buy.
A short sale or deed-in-lieu of foreclosure does involve giving up ownership of your home, but you get to be involved in the process and have some control over it. Some agreements can even result in the homeowner getting paid to leave the home on time and in good condition.
4. Plan ahead when your budget isn't cutting it.
If your finances are strained while you're making payments on your modified mortgage, sit down and formulate a plan. Since you're not guaranteed a second, or third (or any!) loan modification, see if there's a way to keep the one you've already accepted.
Are there additional sources of income you can generate? Can you sell crafts on Etsy, have a Craigslist garage sale, rent a bedroom, or tutor neighborhood children? Sometimes a small source of income, even $20 to $40 per week (that's $80 to $160 per month) adds up enough to fill the gaps in your budget.
See 29 Smart Ways to Make Money on the Side in 2017 (The Penny Hoarder, 2017)
5. Get help from an experienced professional.
What you don't know can hurt you. And when it comes to foreclosure, the consequences, like losing your home, can be irreversible. Unless you're an attorney with lots of experience with foreclosure defense and loan modifications, you should seek out the help of a professional. They can help you delay the foreclosure process for as long as possible, advise you on the options available to you, and tell you whether or not a deal you're offered is worth taking.