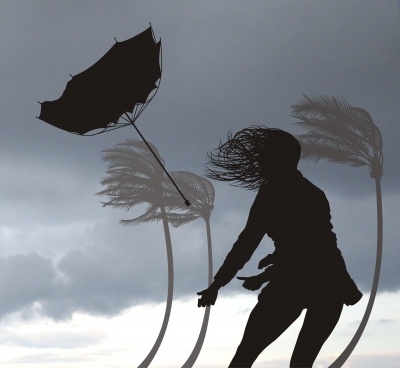 March 2018 Update: If your lender is calling you regarding delinquent payments after making you an offer of assistance, act immediately. We have been contacted by several homeowners who have received foreclosure notices after believing their lender or servicer had granted them relief.
---
Temporary mortgage assistance has been made available to homeowners in parts of the country that were declared disaster areas as a result of 2017's major hurricanes, including Hurricane Irma in Florida, Harvey in Texas, and Maria in Puerto Rico. That help is much needed for many people, but what happens when the relief ends?

After getting some kind of assistance, you and your mortgage could end up in better shape, but you could also find that your problems are worse. It all depends on your situation and what kind of assistance you get. So it's important to understand what you're getting into.
Let's take a look at some of the assistance available.
To have our office review your Hurricane Hardship [Request Your Review Here]
Foreclosure Moratorium
If your mortgage is insured by the Federal Housing Administration (FHA) you are (or were) eligible for a foreclosure moratorium. FHA lenders are required to "automatically stop all foreclosure actions against families with delinquent loans on homes within the boundaries of a Presidentially-declared disaster area." Many counties in Texas and Florida were Presidentially-declared disaster areas and eligible for this moratorium.
The government's Housing and Urban Development (HUD) website, which is the parent department of the FHA, sates:
"If you are at risk of losing your home because of the disaster, your lender may stop or delay initiation of foreclosure for 90 days. Lenders may also waive late fees for borrowers who may become delinquent on their loans as a result of the disaster."

A foreclosure moratorium is also possible for conventional, non FHA-insured mortgages. There's no downside to avoiding the initiation of foreclosure or incurring of late fees, but this delay doesn't last forever, and it doesn't solve your missed payments problem. When it ends, your loan can be referred to foreclosure, you can incur late fees, and you'll need something like a loan modification if you want to avoid foreclosure and keep your home.
Forbearance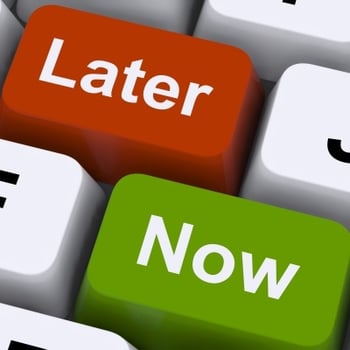 A disaster forbearance could be given to homeowners whether they have an FHA or conventional mortgage. A forbearance allows you to not make payments for a period of time, usually 3-6 months. To get a forbearance, you'll need to contact your mortgage servicer, tell them about your hardship, and ask for help.
If it is granted, congratulations! A lot of people have extra expenses as a result of the recent hurricanes caused by missed work and damage to their homes and other property. With a forbearance you can use the money you would have spent on your mortgage to make repairs to your home or for any other expenses. And since you'll have your servicer's permission to not make payments, your credit won't take a hit.
But what happens after your Hurricane Irma forbearance is over? What about all those missed payments? It's possible that your lender could write off those payments and not require them to be paid back, but that's unlikely. Those payments will need to be paid back one way or another. There are a few ways that could happen:
Immediate Repayment
Many lenders in Florida were reaching out to their borrowers after Hurricane Irma to offer this confusing "solution." They offered a 1-3 month forbearance without explaining clearly that after 90 days, the full amount of the three payments would be due all at once.

If you're in this situation, your lender probably advised you that by the end of the 90-day Hurricane Irma forbearance, they expected to have further instructions from their investors regarding how to help homeowners. If they haven't, you could be in big trouble. If your lender is now claiming that you're 2 or 3 months past due, after they offered you this assistance, give us a call or send a comment below and we'll see what your options are.
Recapitalization
If the amount of missed payments during the forbearance is recapitalized, that means that it is folded back into the loan, which will cause the principal balance and monthly payment to go up. A more expensive payment makes it more likely that you will default and fall into foreclosure.
Deferment
The amount of the missed payments from the forbearance could be deferred (put to the side), where it accumulates no interest, and then has to be paid back in one balloon payment at the end of the loan. Deferments can amount to a considerable sum of money, but you have until the loan matures to save up to pay it. If it comes due and you don't have the money, you can refinance to create a new mortgage that will allow you to pay it back in monthly installments over time.
Loan Modification
Following a forbearance, you may be able to apply for a loan modification to deal with the missed payments. A loan mod involves a permanent change to one or more of the terms of a loan, such as its interest rate, monthly payment, or principal balance. The benefits of a loan modification are that it returns a loan to normal servicing if it was delinquent and can also allow the borrower to have a more affordable payment by stretching the loan out over as many as 40 years and/or lowering the interest rate. Missed payments can be recapitalized or deferred when a loan modification is approved.
Repayment Plan
Your servicer could require you to repay the missed payments over a period of time without recapitalizing the amount back into the loan balance. A repayment plan would require you to pay extra money toward your mortgage each month until everything is paid back. The increased mortgage burden will be harder to meet going forward.
At the time you were offered a forbearance, your lender may not have told you which of the above options will be used to deal with your missed payments. You could have to accept or reject the offer without knowing what's going to happen. While help following a disaster is needed and appreciated, you can see there are scenarios, such as recapitalization and repayment, which can make it more difficult to pay your mortgage after the forbearance.
There are many people in need of help due to the recent hurricanes. A recent report from Black Knight Financial Services attributes 163,000 past-due mortgages to Hurricane Irma in September and 66,000 to Harvey. As delinquencies have been falling in most states, they increased by 36% in Florida in September 2017. Texas was the only other state with an increase in delinquencies in that time period.
Getting Help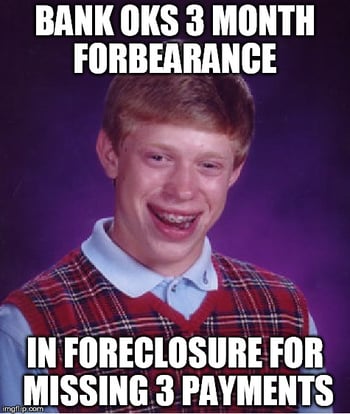 If you need help with your mortgage for any reason, you should first call your servicer and ask what they can do for you. They may be able to give you the assistance you need with no issues. However, servicers are not perfect, and they have been known to make mistakes that cause homeowners serious problems, including unjust foreclosure. They've also failed to give the help they should.
To have our office review your Hurricane Hardship [Request Your Review Here]
We recently heard from Florida homeowners who took their bank's offer of a three month forbearance. To their surprise, after the three months were up they got a default letter as if they didn't have the bank's permission to miss those payments! Because the bank's offer was never put in writing, they have no proof.
If your servicer is giving you the runaround, you should consider hiring a lawyer. The right attorney could help you avoid foreclosure and give you better odds of getting what you want.
When you're in need of assistance, you should also beware of scams. It's unfortunate, but there are opportunistic criminals who see a natural disaster as a chance to prey on people's vulnerability. You can view some of our tips for avoiding scams here.
If you need an attorney to review your hardship, or any threat of foreclosure from your bank request a review here.
Image courtesy of Vlado at FreeDigitalPhotos.net