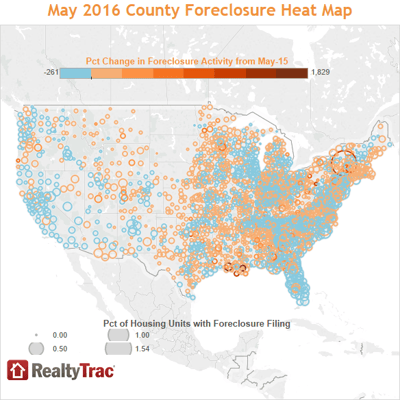 U.S. foreclosure filings were slightly lower in May of 2016 compared to April, according to real estate data company RealtyTrac. There were 100,841 properties with foreclosure filings in May, which is a 21 percent drop from May of 2015. The decrease in foreclosure activity in May is the eighth month in a row with a decrease compared to the same month a year ago.
New Jersey Number One In Country For Foreclosures
New Jersey leads the nation with the highest foreclosure rate of any state. In the Garden State one in every 559 housing units had a foreclosure filing. Maryland was next with one in every 693, followed by Delaware with one in every 716, Florida with one in every 738, and Nevada with one in every 851.
Among the metropolitan areas with at least 200,000 residents, areas in New Jersey take the top two spots for the worst foreclosure rates in the country. In Atlantic City one in every 448 housing units had a foreclosure filing. In Trenton, New Jersey, it's one in 446.
Other areas notable for their high foreclosure rates were Rockford, Illinois with one in every 556 housing units having a foreclosure filing and Tampa-St Petersburg, Florida with one in 588.
New York was among the 18 states that broke the trend of decreasing foreclosure rates with a 17 percent year-over-year increase in foreclosure activity for the month of May.
Bank Repossessions Up From Previous Month
Bank repossessions, known as REO for real estate owned, were up 1 percent in May from the previous month, but were down 24 percent from May of 2015. May is the third month in a row that REOs have had a year-over-year decrease. Again, there were exceptions. New York had a 61 percent increase in bank repossessions and New Jersey was up 31 percent.
Doing What's Right For You
The foreclosure trends for the country as a whole or in certain states or regions may seem irrelevant to you if you're in danger of losing your home. "So things are better for people in Utah or my neighbors. How nice for those people. But I'm going to lose my home. What can I do to save it?" Good point. Let's explore that.

If you've defaulted on your mortgage but want to save your home, a loan modification is one of the only options available to you. Modifying your mortgage allows you to make permanent changes to your loan and get back on track with your lender. Interest rates can be lowered, loan terms extended, and sometimes the principal on a loan can be reduced. Often the monthly payment is reduced.
But there are two things to keep in mind if you want to pursue a loan modification. One is that the federal government's Home Affordable Refinance Program (HAMP) is expiring at the end of 2016. There are in-house modification programs that banks can offer separate from HAMP, but if you need help now you should act as soon as possible so you have all options available to you.
The other point to consider is that the majority of people who apply for a loan modification on their own are denied. It takes knowledge and experience to be able to show the bank exactly what they need to see to approve your application. Without someone with that knowledge on your side you're just taking a stab in the dark and the consequence of missing is losing your home.
The best help homeowners can get is an attorney who provides foreclosure defense and loan modification assistance. Reputable law firms are more affordable than you might think and more than worth their fees when they can assist you in finding a permanent solution to your mortgage issues.