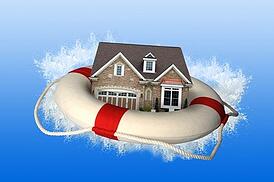 If you are paying for a trial loan modification, then the cold, hard, truth is that your lender does not have to stop the foreclosure process on your home. In fact, expect foreclosure to proceed as if you hadn't done anything, unless you've otherwise been informed by the courts. This is for 3 reasons:
If your loan modification doesn't work out, then the bank won't lose time and money by having to stop and restart the foreclosure process in court.
There are no laws that say banks can't foreclose during modification. There are federal guidelines on HAMP modifications
Banks have serious communication issues with the lawyers they hire to oversee their foreclosures.
Keep Tabs on Your Foreclosure Status
If you've applied for a loan modification and are in the foreclosure process or at risk for foreclosure, don't expect for any changes to be made to the foreclosure lawsuit that has been filed against you. Be aware that your mortgage lender's lawyers is most likely proceeding with steps toward foreclosure on your home, and be sure to check with your local court (or your foreclosure defense attorney, if you have one). Don't take your lender's word as gospel if they tell you that foreclosure has been postponed. Banks are usually clueless about the day-to-day progress of most of their foreclosure cases, since they hire outside law firms to carry out their foreclosures in court.
Be sure to keep tabs on your mail and read it carefully. Pay special attention if you receive any notices from your local sheriff's department or your county. If you find out that a sale date has been scheduled on your home, contact an experienced foreclosure defense lawyer immediately, to see if the sale date can be postponed while you're paying for your trial loan modificaiton. Or even better, hire a foreclosure defense attorney beforehand to ensure that a sale date isn't scheduled in the first place.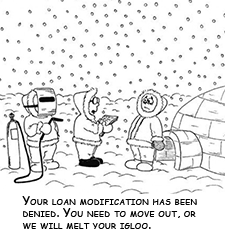 What's The Worst that can Happen?
So if you receive a trial modification offer that you're able to pay for, then all the headache and heartache associated with loan modification is finished, right? Wrong. Thousands and thousands of homeowners have assumed wrong and lost their homes; they've assumed that their foreclosure had been stopped once they received a trial loan modification, and they've also assumed that their trial modifications would only last for the time period that they were scheduled for
In fact, foreclosure waits for no modification, and it is not uncommon for a typical 3-month trial loan modification to be drawn out for 6 months or much longer because a lender hasn't extended a permanent loan modification offer in a timely fashion. 6 months is an eternity on any foreclosure timeline; more than long enough for a home to go through the bulk of the foreclosure process in most states.
It's even speculated that banks have been purposefully giving homeowners trial loan modifications in order to generate some more money before they sell off the home. While that is certainly an immoral practice, it is by no means illegal if the loan modification is an "in-house", or bank-generated modification.
The Best Way to Save Your Home
What's the best way to save your home? Have an experienced foreclosure defense attorney represent you in court. Not only will they understand what it takes to get a positive outcome with a mortgage lender, they will attempt to do it in the least amount of time possible. They'll also attempt to postpone any sale dates that may be scheduled while your loan modification is pending.
In addition to foreclosure defense, some foreclosure defense attorneys also provide loan modification as an ancillary service. This way, the worry of loan modification and foreclosure defense will be out of your hands.
Update: Recently, we negotiated a trial loan modification with Wells Fargo where it was written into the agreement that the foreclosure would not proceed if Trial Loan Modification payments were made in a timely manner. Wells Fargo failed to stop the foreclosure sale, but in the end, we saved the home.