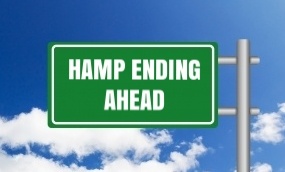 The Home Affordable Modification Program (HAMP) is ending December 31, 2016.
It, along with the Home Affordable Refinance Program (HARP) and other programs, began in 2009 as part of the federal government's Making Home Affordable program (MHA), which was designed to help struggling homeowners avoid foreclosure after the housing and economic crisis that began in 2007.
HAMP is the principal component of MHA, and it sets guidelines and gives incentives to mortgage loan servicers to modify mortgages rather than foreclose. Sometimes known as 'the Obama Plan,' it's been a popular option for troubled homeowners.
Millions of struggling homeowners have avoided foreclosure through a loan modification, but now that the end of HAMP is in sight government agencies are communicating with the mortgage industry about loss mitigation efforts going forward.
Loss mitigation options include modifications, short sales, deeds in lieu of foreclosure, forbearance agreements, repayment plans and "any other option that is intended to assist borrowers in finding a solution to their short- or long-term difficulties with paying their mortgage a

s originally agreed."
The Consumer Financial Protection Bureau (CFPB) has released a document titled CFPB's Principles for the Future of Loss Mitigation, which includes four principles "that provide a framework for discussion about the future of loss mitigation."
The Four Principles For Future of Loss Mitigation:
Accessibility: Consumers can easily obtain and use information about loss mitigation options and application procedures from their servicers.


Affordability: Repayment plans and modifications offered should be designed to produce a payment and loan structure that is affordable for consumers.


Sustainability: Loss mitigation options for home retention should offer affordability for the duration of the loan.


Transparency: All the terms, such as future rate term changes and forbearance amounts, should be described in clear, plain language that consumers can easily understand.
The principles in the document are not legally binding. The CFPB has mortgage servicing rules and supervisory and enforcement authority that continue and are separate from the principles in the document.
The purpose of the Bureau's principles are to learn from the successes and failures of HAMP and ensure that both borrowers and lenders can agree to fair solutions when mortgage problems arise in a post-HAMP world. There are competing interests in any effort to resolve a mortgage in default, but the CFPB points out that what's good for one party is typically also good for the other.
What Does It Mean To You?
Loan modifications, short sales, and deeds in lieu of foreclosure will still be available in 2017 and beyond, but they will be done in-house, through the bank, and according to their own guidelines. Hence the CFPB's efforts to learn lessons from HAMP and anticipate future loss mitigation needs.
You should act as soon as you have or anticipate having a problem paying your mortgage. HAMP or other MHA programs may be the best option for your needs, and it's better to have options to choose from while they're still available.
Keep in mind that homeowners often have their loss mitigation applications denied. Loan modifications are notoriously difficult to get approved. The application process is involved and complicated and borrowers have better odds of getting what they want when they work with a qualified professional, such as an experienced law firm.
Some law firms offer foreclosure defense services with loan modification assistance as an ancillary service. That gives a homeowner the ability to fight foreclosure in the short term while working for a permanent loss mitigation.