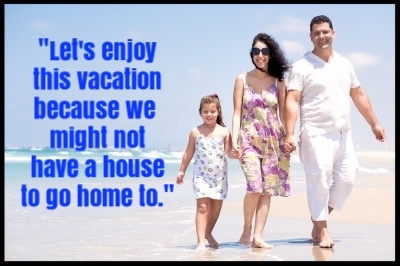 Even under the best circumstances, everyone needs a vacation to get away from the grind of regular life, recharge their batteries, and spend some quality time with their loved ones. If you're behind on your mortgage or in foreclosure, you could probably use a stress-relieving vacation even more.
But is it appropriate to go on a vacation when you aren't paying your mortgage?
It depends on your particular circumstances, and what kind of money you're going to spend on your trip.
People generally don't stop paying their mortgage unless something went seriously wrong with their finances and/or life. We hear their stories all the time, and they're often tragic. Loss of income, cancer, divorce, and enormous debt burdens are all common for people who default on their mortgage. Nothing good causes a person to stop paying their mortgage.