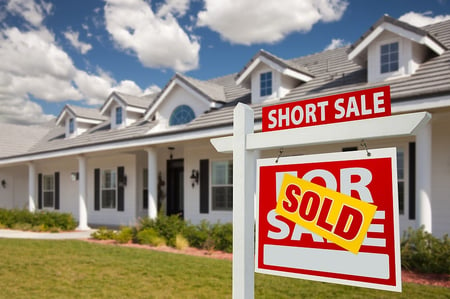 In late 2015 a homeowner in Orange County, Florida came to our law firm seeking assistance avoiding foreclosure. To protect his privacy, I'll call him Mr. Hannah.
Mr. Hannah's home is in a great location in central Florida just a few miles from Walt Disney World. But being near the "most magical place on earth" didn't help him when, in 2010, he encountered a hardship and couldn't afford to make his mortgage payments to Wells Fargo. In 2011 he was served foreclosure papers.
By the time we were retained to represent him, Mr. Hannah's home was scheduled to be sold in a foreclosure auction.
Our client told us that he wanted to pursue both a loan modification and a short sale at the same time. He figured that way if one didn't work out he would have the other option to fall back on. We've heard this from other clients in the past, but it doesn't work like that.
We told Mr. Hannah that it wasn't possible to pursue both a short sale and a loan modification at the same time. You have to pick one. If your application isn't approved or you don't like the deal you're offered, you can reject it and pursue the other deal. But you can't do both at the same time.
Mr. Hannah decided that he would be better off letting go of his home, an upside-down investment, but he didn't want to go through foreclosure, so he chose to pursue a short sale.
Short Sale Is Sometimes the Best Option
A short sale is when a house is sold for less than the remaining balance on the loan. It affords a homeowner more control than foreclosure. In a short sale, the homeowner is involved in listing the property with a real estate agent and gets to meet the new owners. It's the same as selling any house, except that homeowner's lender has to give their final approval. A short sale can be less damaging to a homeowner's credit score than foreclosure.
To even have a chance at getting our client approved for a short sale we first had to get his foreclosure sale date canceled. In March of 2016, a judge denied our motion to cancel the foreclosure sale date, saying the case was too old and that more proof was needed to show that the short sale was being reviewed, or had been approved.
Another way to cancel that sale date was necessary.
Suggestion of Bankruptcy to Stop Foreclosure Sale
The way the foreclosure auction was postponed, was through a tactic called a suggestion of bankruptcy. A homeowner can suggest to the court that they will be filing bankruptcy, which causes an automatic stay on foreclosure proceedings, including a foreclosure sale.
Mr. Hannah gave consideration to filing bankruptcy, and filed a suggestion of bankruptcy.
It worked, and the sale date was cancled, and the foreclosure proceedings were stayed.
The suggestion of bankruptcy caused Mr. Hannah's file to be moved to a different department in the bank's attorney's office and fall off their radar. That gave our client the opportunity to work on getting a buyer for a short sale. It looked like he was close to having a done deal, but it didn't go through. Sometimes when a buyer is found and a price agreed upon, their financing doesn't work out. So our client remained in his home.
Foreclosure Sale Rescheduled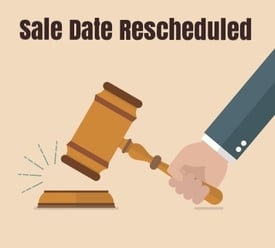 Later in 2016 the bank realized Mr. Hannah did not complete his bankrupcty filing, only suggested it, and that the house had never been sold in a foreclosure auction or a short sale. So the bank filed a motion to reset the foreclosure sale date. Their motion was granted and the sale date was reset for 60 days from the time this motion was granted.
Then Mr. Hannah provided proof that another short sale was scheduled to close, so the bank filed a motion to cancel the foreclosure sale the day before it was to take place. The judge granted the motion and adjourned the sale date for 30 days. Yet again, the short sale fell through and our client needed a way to avoid an approaching foreclosure sale.

After all this our client still wasn't ready to give up and let a foreclosure sale happen, so he continued to try to locate a new buyer and complete a short sale.
Emergency Motion To Cancel Sale
Meanwhile, we filed an emergency motion to cancel sale. We went to court with the newest short sale contract and listing agreement and told the judge we needed more time. We asked for 90 days and... got it, which is incredible because our client hadn't paid his mortgage for more than six years! The new sale date is scheduled for June 2017 and Mr. Hannah is trying to wrap up the short sale transaction as of this writing.
There are a million different ways your situation could play out after you stop paying your mortgage. Without experienced counsel on your side, it could end in a way that's most convenient and profitable for your bank, and most inconvenient and unprofitable for you.
Or, it could work out like Mr. Hannah, who, though losing his home, has had the benefit of living in his home without making a mortgage payment for more than six years. The money he's been able to save puts him in the best position for his life after the short sale. The legal process isn't always pretty. Some things come down to the wire, but with qualified professionals on your side you put the odds of getting what you want in your favor.