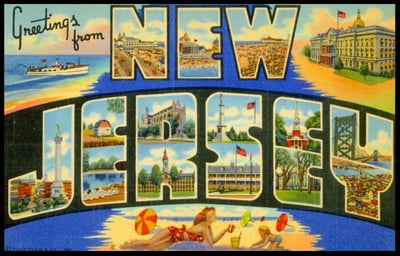 In the first quarter of 2016 the U.S. saw less foreclosure activity than in any quarter since the fourth of 2006. But New Jersey continues to struggle with a foreclosure rate that's much worse than the national average.
Nationwide, one in every 459 homes in the country had a foreclosure filing in the first quarter of 2016. But in the garden state it's one in 216.
According to RealtyTrac's Foreclosure Market Report the only state with more is Maryland with one in every 194 housing units having a default notice, scheduled foreclosure auction, or bank repossession.
Southern Jersey and Atlantic County are struggling particularly hard.
Atlantic County has the highest foreclosure activity of any of the over 3,100 counties in the country with one in every 106 houses having a foreclosure filing in the first quarter of 2016.
In Cumberland County, one housing unit in every 159 had some foreclosure activity in the first quarter of this year. In Trenton, New Jersey it's one in every 168, and one out of every 221 in Ocean County.
Foreclosures Hurting Home Prices
With so many foreclosed properties on the market, many of them in poor condition and selling at a deep discount, the median price of homes in affected areas has been dragged down. To wit, the median sale price for a home in Atlantic County was $184,000 in March, 2016 compared to $211,500 in March 2015.
In Cape May County, the median price for the sale of a single-family home was $305,000 last March. This March it was $260,000, which is a drop of almost 15%.
It wasn't all bad news. Ocean County saw the median price of homes sold rise 5.7%, year-over-year for the month of March to $261,000
Foreclosures Concentrated In Select States, Regions
New Jersey has some company. Other states are struggling to reduce their numbers of foreclosures as well. Florida comes in at the fifth worst in the country with one in every 274 housing units having a foreclosure filing in the first quarter of 2016. Illinois, Pennsylvania, and New York also have worse than average foreclosure rates. The metropolitan areas of Syracuse, Utica-Rome, and Binghamton, New York actually reached a new foreclosure peak.
Housing Crisis Not Over
The bad foreclosure news in New Jersey and other states and regions of the country is a reminder that, although much improved, the housing and foreclosure crisis is not over. Millions of homeowners continue to struggle to make their mortgage payments. And many owe more on their mortgage loan than their home is worth. Six million people have already lost their homes to foreclosure.
If you're in foreclosure, there are options to fight or delay it. You can take advantage of the fact that New Jersey is a judicial foreclosure state, which means you have more rights and time before losing your home than in a nonjudicial foreclosure state. On average, it takes more than 1,000 days to foreclose in New Jersey.
If you want to keep your home you can use that time to apply for a loan modification, which can permanently lower your monthly mortgage payment to an affordable portion of your income. It's even possible to reduce principal, and the amount you're underwater, through a loan modification. Most borrowers who apply on their own are denied, so it's a good idea to work with a professional who has experience getting the results you want.