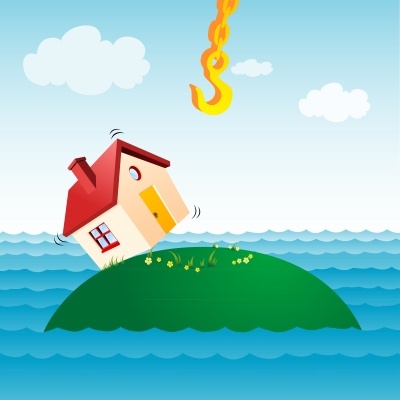 If you miss mortgage payments, or pay less than what is required, then you're in default on your mortgage loan. Your lender will at some point send you a notice of default letter notifying you that by not paying your mortgage, you're in violation of the terms of the promissory note that you signed and are at risk of losing your home to foreclosure.
If you don't work things out by reinstating your loan (paying the entire amount you're behind), agreeing to a repayment plan, or getting a loan modification, then the foreclosure process will continue.
Further along in the foreclosure process there's another type of default that can happen called a judicial default or clerk's default. A judicial default is a "binding judgment in favor of either party based on some failure to take action by the other party."

In judicial foreclosure states, a judicial default is usually a judgment in favor of the plaintiff (lender) when the defendant (homeowner) fails to respond to a summons or show up in court. In sports terms, a judicial default is like a forfeit victory for one team after their opponent doesn't show up on game day.
A judicial default judgment following your mortgage default is bad news if you want to keep your home. Your lender is one step closer to being able to sell your home in foreclosure when the court has entered a default judgment against you.
Unless you're actually trying to be foreclosed on as quickly as possible, you don't want that. Fortunately, it's easy to avoid simply by responding to the lawsuit against you when you are served.
Being Served Summons and Complaint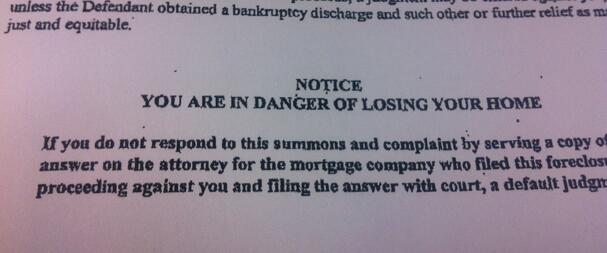 If you're not paying your mortgage, and you live in a judicial foreclosure state, you will be served a foreclosure complaint and summons. Those are the documents your lender is required to give to you and file in court to move forward with foreclosure. Receiving them means you're now the defendant in a civil lawsuit. Usually a process server will bring them to your front door.
The complaint details the charges against you. In it, the lender will include information about your mortgage and note, the property, when you defaulted and how much you owe, who has an interest in the property, and what should be done to fix the situation. All of this is to prove to the court the lender's interest in your property and their right to foreclose and sell it to pay off the debt you defaulted on.
Being served is a serious event, but it's not the end of the line, and does not necessarily mean that foreclosure is imminent or inevitable.
It may be possible to live in your home for years after being served. To do that, you'll need to answer the complaint.
Answering a Foreclosure Complaint
The information on how to answer the complaint will be contained in the summons. You'll need to file it in writing within the required time period (usually 20-35 days) with the court and the bank's attorney.
(Note: Our firm recommends always consulting an attorney before filing your own answer in a foreclosure matter.)
The complaint will contain a numbered list of charges against you. Your answer will need to admit, deny, or dispute each of them. Your answer can include a defense that states the foreclosure lawsuit should never have been filed because of a mistake by your lender.
You could also use any number of factual affirmative defenses, which are arguments for why a ruling shouldn't go in your lender's favor. It may be appropriate to argue that your lender lacks the standing to foreclose, that they aren't the party in interest, or that they've failed to comply with a procedure.
Properly answering the complaint can draw out the foreclosure process and force your lender to do a lot more work. Failing to answer the complaint means certain entry of default judgment. It is possible to file a motion to vacate the judicial default judgment against you if you can show a good excuse as to why you didn't answer the complaint. But it's much easier to do it right the first time.
Answering a foreclosure complaint is so important that you should consider having a foreclosure defense attorney do it for you. Do you understand the Fair Debt Collections Practices Act (FDCPA), the Real Estate Settlement Procedures Act (RESPA), Consumer Financial Protection Bureau (CFPB) rules, conditions precedent, and a million other rules, regulations, defenses, laws, and rights relating to foreclosure? Unless you happen to be an expert on foreclosure, there's no reason you would.
Not knowing could cause you to lose your home when you could have gotten a loan modification that allowed you to keep your home for good. Even if keeping your home isn't possible, a foreclosure defense attorney may be able to help you stay in your home for years without making a payment before you exit your home under the best circumstances.
Again, not answering the foreclosure complaint is like not even showing up to a contest. Your lender will darn sure show up prepared, with experienced lawyers, and ready to win. If you want what's best for you, do the same.
Image courtesy of digitalart at FreeDigitalPhotos.net