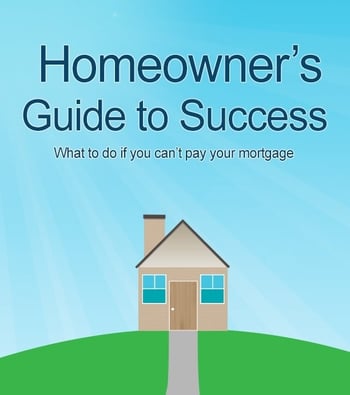 The Department of Housing and Urban Development (HUD) has released a document that gives homeowners information on what to do when they're facing foreclosure or can't make their mortgage payments called "Homeowner's Guide to Success: What To Do If You Can't Pay your Mortgage."
The HUD guide is short, but contains a lot of useful information for homeowners who are in foreclosure or in danger of falling into foreclosure. If you're having trouble with your mortgage and don't know what to do, HUD's guide is a good place to start learning about what options are available to you.
The guide includes a glossary of terms, a financial worksheet, and advice on where to go for more information. But it also includes some specific advice on what you should do.
The Homeowner's Guide to Success recommends that if you're at risk of foreclosure you consider doing two things as soon as possible: contact a HUD-approved counselor and call your mortgage servicer. Let's look at those options closer.
Talk To a HUD-Approved Counselor
The Department of Housing and Urban Development offers homeowners free counseling through their network of housing counseling agencies. To find a HUD-approved counselor, go to www.hud.gov/findacounselor.
There is no charge to talk to one of HUD's counselors. The guide says "a HUD-approved housing counselor is a trained professional who can advise you on choices that may be available to prevent foreclosure." They also can help you apply for some help with your servicer. Our firm recommends you seek the help of a foreclosure defense law firm with years of experience before submitting an application directly to your servicer -- we've encountered far too many homeowners who have been denied after appyling with HUD's assistance.
Contact Your Mortgage Servicer
HUD's guide recommends contacting your mortgage servicer as quickly as possible when you are having trouble with your mortgage. Your mortgage servicer is the company that takes your monthly payments and credits your account. They're also involved in foreclosure and evaluating you for loss mitigation options.
Your mortgage servicer controls your loan, so you need to call them when you're having problems making your payments. Depending on your situation, they may be able to help by offering one of the following loss mitigation options that let you avoid foreclosure:
Forbearance

If you call your servicer before you fall behind on your mortgage and tell tell them about a hardship that's going to prevent you from paying your mortgage, they may be able to offer you a temporary forbearance to help you get through it. (A forbearance is when your mortgage payments are reduced or suspended for a period of time.) Since you have your servicer's permission to not pay your mortgage during the forbearance, you won't accumulate late fees, be put into foreclosure, or take a hit to your credit.

Once the forbearance is over, you'll have to return to paying your mortgage again, and the missed payments will have to be made up somehow, such as with a repayment plan, balloon payment, or recapitalization.

Loan Modification

A loan modification is a permanent change to one or more of the terms of a loan, such as its term length, interest rate, principal balance, or monthly payment. For homeowners already behind on their mortgage payments, a loan mod is often their only chance to save their home.

To be eligible for a loan modification, you'll need to send your servicer an application called a Request for Mortgage Assistance, which includes thorough documentation of your finances. You can download a complete list of documents you'll need to provide here. If approved, homeowners are typically first offered a three month trial modification. If those payments are made on time, then they are offered a permanent mod.

"Graceful Exit" Options

If you don't want to keep your home, or your servicer doesn't think you can keep it, they may suggest an option that lets you avoid foreclosure and leave under the best circumstances, such as:

Short sale:

When a home is sold for less than what is owed on the loan. Since the owner of the loan takes a loss, you need permission to complete a short sale.

Deed-in-lieu of foreclosure:

This involves giving the home to the lender in exchange for not foreclosing. Sometimes the homeowner is given some money in exchange for leaving the home on time and in good condition.
Where Do You Go For More Help?
HUD's guide provides useful information and advice to homeowners facing foreclosure. By all means, educate yourself and take the guide's advice. You never know, talking to a HUD counselor or your mortgage servicer could get you the result you want. But don't count on it. Many homeowners will need much more help.

Mortgage servicers have a history of not being as helpful as they should be and giving homeowners the runaround. It can be very frustrating. And getting a loan modification, often the only hope for many people to keep their home, is not as simple as just applying and then being approved. Most people who apply for a loan modification on their own are denied, often more than once.
Hiring a Foreclosure Defense Attorney
It takes experience to present your financial situation to the bank in the way that gives you the highest chance of being approved for a loan modification. Without that experience you could find yourself just guessing and being denied. And while that's happening, the bank is trying to foreclose.
So, though your servicer and a HUD-approved counselor can be helpful, you should seriously consider working with an experienced law firm if you're facing foreclosure. There's no substitute to having a professional who's helped thousands of other people in your situation. They may be able to help you avoid foreclosure and find a permanent solution to keep your home.