Disclaimer: these results should not be construed as a guarantee, as each case is unique. We have helped over 5,000 homeowners, here is one of their stories.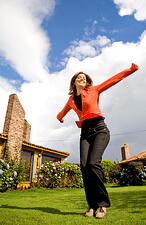 A mature, single Florida homeowner was having difficulties making her mortgage payment, because of limited income from social security. She was even renting out one of her bedrooms. It just wasn't enough to make ends meet. When she retained our law firm, she hadn't paid her mortgage in over 10 months, she owed her lender—Nationstar Mortgage—over $8,000 dollars, and her home was in the foreclosure process. No foreclosure sale date had been set yet.
Our foreclosure defense team negotiated with Nationstar Mortgage to obtain a loan modification and stop the foreclosure process. It was a difficult case, because Nationstar continued with foreclosure even as we were negotiating her loan modification. In fact, Nationstar set foreclosure sale dates twice during the negotiation process; both sale dates were stopped by our attorney.
By June 2013, our firm stopped the foreclosure process and we also negotiated a HAMP loan modification that would enable the homeowner to keep her home. Her monthly mortgage payment and interest rate were both slashed by more than half. Her monthly payment went from $890.92 to $386.88 (a savings of $503.44 per month), finally making the payments affordable. Perhaps as importantly, the money owed to the

bank — over $26,000 — was deferred until the end of her mortgage term. The homeowner was incredibly relieved and thankful when she learned about the final outcome of our negotiations with Nationstar. Nationstar didn't require any down payment and her foreclosure case has been dismissed.
Nationstar Loan Modification Overview

July 2013

Before

After

Monthly Payment

$890.32
$386.88

Interest Rate

7.50%
Step Up Rate capped at 3.375%

Foreclosure

Two Foreclosure Sale Dates
Foreclosure Sale Stopped and Case Dismissed

Benefits to Homeowner

$26,557.56 Principal Balance deferred
Monthly payment reduced by 56%, saving $503.44 per month

At Amerihope Alliance Legal Services, we defend homeowners against foreclosure and obtain loan modification results. Our goal is to provide troubled homeowners with the legal counsel that will help them avoid foreclosure or have the best chance at a more secure financial future. Over 5,000 homeowners that have been helped by our commitment to excellence in both foreclosure defense and loan modification, and we look forward to assisting even more distressed homeowners in the future.