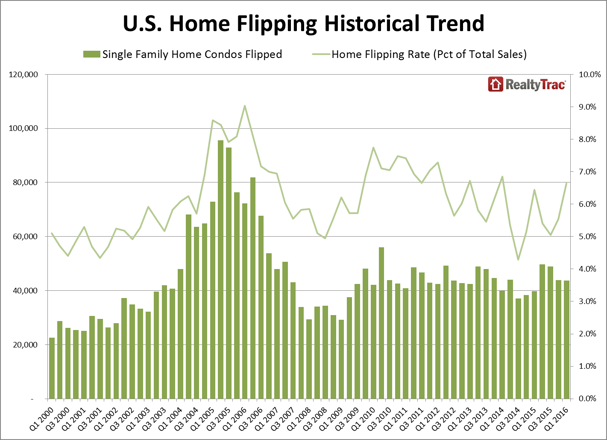 Turn your television to a random basic cable channel and it probably won't be long before a reality show about house flipping comes on. There's Flip This House on A&E, Flip That House on Discovery, Flip or Flop on HGTV, Flip Men on Spike, Flipping Out on Bravo, and many, many others.
Even celebrities are in on the house flipping reality show craze. Snooki from Jersey Shore has a show on FYI called Nicole & Jionni's Shore Flip. And Vanilla Ice has The Vanilla Ice Project on DIY Network.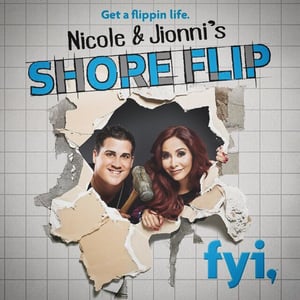 The increase in house flipping can't be credited to reality shows, even though there are a lot of them. The recent uptick in house flipping can be attributed to a shortage of homes on the market. That makes it more profitable to sell, or buy and resell (flip) a house. Vanilla Ice and Snooki are the tip of the iceberg.
Flips Up 20% From Previous Quarter
In the first quarter of 2016 6.6 percent of single family home and condo sales were flips, which is the highest rate since the first quarter of 2014. The 43,740 flips represent a 20 percent increase from the quarter before and a 3 percent rise from the first quarter of 2015.
The numbers come from housing data company RealtyTrac's Home Flipping Report. They define a flip as a home that's sold, bought, and resold within 12 months.
Ten years ago, in the first quarter of 2006, home flipping peaked at 9 percent of total home sales. So the recent numbers are still below the peak leading up to the housing crash and recession. But is the recent rate of flipping bad or indicative of a bubble?
Flipping itself isn't good or bad. It can be a result of responsible rehabilitation of old properties that need to be fixed up, or it can come from speculators who artificially drive up prices.
"While responsible home flipping is helpful for a housing market, excessive and irresponsible flipping activity can contribute to a home price pressure cooker that overheats a housing market, and we are starting to see evidence of that pressure cooker environment in a handful of markets. The good news is that — despite the 20 percent jump in the first quarter — home flipping nationally is not far above its historic norm, and home flippers in most markets appear to be behaving rationally and responsibly"

Daren Blomquist, senior vice president at RealtyTrac
The best evidence for this responsible flipping is that, in the first three months of 2016, 71 percent of flipped homes were bought with cash, while only 37 percent were bought with cash at the peak of flipping. With their own money on the line today's flippers seem to be exercising caution, buying homes at a deep discount and selling at a premium for solid profits.
Flipping At An All-Time High In Some Markets
While the national average rate of home flipping is below its peak, some parts of the country are at all-time highs, including Buffalo, New York; York-Hanover, Pennsylvania; New Orleans, Louisiana; Seattle, Washington; San Diego, California; and Virginia Beach, Virginia.
Multiple markets in South Florida had a higher percentage of flips than the national average, including Deltona-Daytona Beach-Ormond Beach (11.8 percent); Tampa (10.8 percent); Miami (9.5 percent); and Jacksonville (9.4 percent).
It's not just house flipping that has been increasing, it's also the money made from flipping that has been going up. The average gross profit made from a flipped house in the first quarter was $58,250, which is the highest average since the fourth quarter of 2005.
What Does It Mean For You?
If you're worried, current conditions do not look like the housing bubble that preceded the Great Recession. Lending standards are tighter, there's less leverage being used to finance residential real estate, and less speculation.
With housing inventory low and prices rising, this is a seller's market. That's good news if you want to sell your home or if you're among the millions of homeowners who owes more on your home than it's worth. Rising prices help lift you out of negative equity.
If you're having trouble making your mortgage payments and don't want to or can't sell your house you should look into getting a loan modification. A loan modification involves making a permanent change to one or more of the terms of your mortgage loan. Through the government's Home Affordable Modification Program (HAMP), you can stretch your loan out to 40 years and cut the interest rate to 2 percent. It's even possible to reduce the principal you owe on your loan.
HAMP is set to expire at the end of 2016, so if you need to modify your mortgage you should take action now. The sooner you get your mortgage problems straightened out, the sooner you can get back to watching a reality show about house flipping without any worry about losing your home.