This is a three part series about free loan modificaitons. See last week's article: Free Loan Modifications - Part 1: Hope Now Alliance
In Brief:
NACA started as a grassroots homeowner advocacy group.
Like Hope Now Alliance, NACA has ties with the big banks.
Homeowners are better off using other methods of foreclosure defense.
NACA's Story
The Neighborhood Assistance Corporation of America, or NACA for short, is as different from Hope Now (the subject of our last blog post) as can be. NACA started in the late 1980's as a local grassroots organization in Boston. It worked in concert with local trade organizations and unions to help rehabilitate neighborhoods and change housing laws, and the results of its work created positive ripples for homeowners throughout the United States. NACA continued to expand into a national entity into the mid 2000's, and forged agreements with most of the USA's top lenders to create favorable situations for homeowners in need. NACA even took the step of creating their own "fair" mortgage for homeowners, which was backed by the same big banks that NACA had signed agreements with.
Around the time of the housing crash, NACA's CEO and Founder, Bruce Marks (pictured above), gained media recognition for his unusual methods of activism against lenders and government agencies, and even tagged himself as a "non-violent bank terrorist." In the meantime, NACA was growing rapidly in response to the housing crash. They began having their signature "Save the Dream" events in mid-2008. During these "Dream" events, NACA would rent out a convention center or stadium in a major city, and tens of thousands of financially troubled homeowners would come to meet directly with bank and government loan representatives at a free event that was once called "part motivational seminar, part rock concert, part church revival, and part loan negotiation." NACA's implied mission for these events was to act as a catalyst and intermediary for communication between homeowners and banks.
The Truth About "Save the Dream"
What most homeowners didn't know was that "Save the Dream" events aren't as altruistic as they seem. "Dream" events are really just a way of funneling thousands of homeowners into accepting the terms of NACA's mortgage. Although the terms of the NACA mortgage aren't as bad as the terms homeowners originally received from predatory lenders, they aren't as good as the terms homeowners can receive with the help of a foreclosure defense law firm.
Also, NACA receives a $300-$1000+ commission for every loan modification completed at "Save the Dream" events. While this commission may not seem like much by itself, if you consider that 5,000-30,000+ homeowners often attend "Dream" events, then it's easy to understand that NACA's events are big business. Many people have complained that the big banks and NACA don't offer any real follow-up help once "Save the Dream" leaves town, and other homeowners are actually worse off after working with NACA. Some homeowners have even been foreclosed upon after receiving "help" from counselors at NACA events. This criticism has increased in magnitude as NACA experienced exponential expansion between 2008 and 2009, and even more since NACA lost its government funding in 2011.
Seeing The Big Picture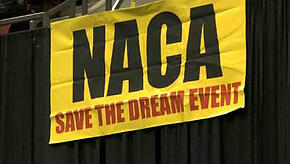 Overall, it's clear that NACA talks one game and lives another. If you visit NACA's website now, you'll see unabashed criticism of big banks, politicians, and government agencies. You'll see signups for various seminars and "Dream" events. What you won't see is that NACA is fine with "fighting" these people, but only urges you to do it the NACA way, which puts money in NACA's pockets. Some of the country's biggest banks (most notably Chase) have even taken note of NACA's success with homeowners, and now run their own "Dream"-style events, often in the same city at the same time as NACA's events. As you might imagine, the bank-sponsored events offer far less favorable terms for homeowners than "Dream" events.
If you were to interview homeowners who have been to a NACA dream event, you will learn that there seem to be two different NACAs. There is a NACA that helps promotes loan modifications for homeowners, with an eccentric CEO who advocates for homeowners' rights and the NACA that talks a lot about assisting homeowners, but does little to actually help them. With more research on these Free Loan modification services, It becomes obvious that most homeowners are better off going through other routes for foreclosure defense and loan modification.
Next Up: Free Loan Modifications Part 3: Are Enough People Being Helped?