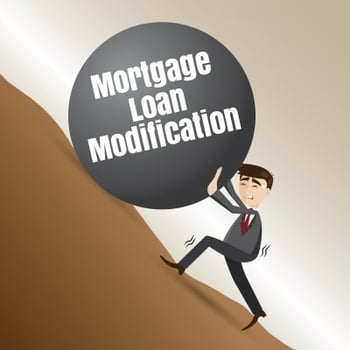 If you're at risk of foreclosure, a loan modification is your best bet for keeping your home. It allows you to reinstate your loan with a lower payment and keep your property. That's a wonderful thing. The process of getting a loan modification, however, is frustrating and stressful for many homeowners who struggle to understand and complete their applications, then have it denied while the threat of losing their home looms.
What is a Loan Modification?
A loan modification is a permanent change to one or more of the terms of a mortgage loan such as the interest rate, length of the loan, and principal. They have existed for a long time, but have only recently been needed for millions of homeowners.
When the country was hit with the worst recession since the great depression and was hemorrhaging jobs, millions of homeowners became unable to pay their mortgages, and foreclosures started in unprecedented numbers.
The government offered a series of programs to help homeowners get through their hopefully temporary hardship and avoid foreclosure. The biggest is the Home Affordable Modification Program (HAMP) which gives incentives to loan servicers to modify mortgage loans instead of foreclosing.
Hopes were high that HAMP would help many millions of homeowners avoid foreclosure quickly and conveniently. The initial results were underwhelming in part because mortgage servicers were not set up to evaluate heaps of borrowers for loan modifications.
The Treasury Department's website elaborates on the early problems with applying for a loan modification:
"When the housing crisis began, the mortgage industry was ill-equipped to respond adequately. Mortgage servicers had insufficient resources to address the needs of a market that was reeling from increasing foreclosures. In addition, their servicing expertise and infrastructure was limited to overseeing collections and foreclosing on those who failed to pay. They did not have the systems, staffing, operational capacity, or incentives to engage with homeowners on a large scale and offer meaningful relief from unaffordable mortgages."
In the early days a lot of loan mod applicants complained that they went to the trouble of completing an involved application only to be told by their servicer that it had been lost and needed to be resubmitted. Others were led to believe that approval was imminent only to be served foreclosure, which is known as dual-tracking.
Improvements To The Process
A lot of those problems have been addressed and improved. Now servicers are required to maintain adequate levels of trained staff, dual-tracking is restricted, and there are compliance reviews by the Treasury Department that identify areas where servicers need to improve the way they help struggling homeowners.
Things are better than in the early days of the crisis but getting a loan modification remains difficult. The amount of paperwork is similar to what's required to apply for a mortgage in the first place and most people who apply on their own are denied.
Regardless of how difficult it is, it's the only hope many homeowners have for saving their most valuable investment. The average family who receives a HAMP loan modification reduced their mortgage payment by $530 a month. The savings makes all difference in the world.
So if you need to modify your loan to keep your home, how do you take some of the difficulty out of the process and give yourself the highest chance of success?
Making It Easier On Yourself
The best way to tackle anything you're not an expert on is to learn from someone who is. Take advantage of other people's knowledge and experience so that you don't have to make preventable mistakes and reinvent the wheel.
There are housing counselors that may be able to guide you in the right direction or help you complete your loan modification package at no charge. Some people find this helpful and some find that they got what they paid for. There are cases of distressed homeowners getting terrible advice from well-intentioned, but incompetent people at nonprofits.
It's best to work with an attorney who can assist you with the process. An attorney can help you fight foreclosure in the short-term while working for a permanent solution. Be aware that not all attorneys have the same knowledge, skills, and abilities. Make sure the person you hire to help you with foreclosure and loan modification can prove that they've actually gotten the results you're looking for with previous clients.
Homeowners who are behind on their mortgage payments and facing the possibility of foreclosure deal with a tremendous amount of stress. A loan modification is the only hope many of them have to keep their home. If you find yourself in that situation, do a little research and consider working with someone who can help you reduce the guesswork, uncertainty, and anxiety associated with your mortgage problems.
Image courtesy of iosphere at FreeDigitalPhotos.net