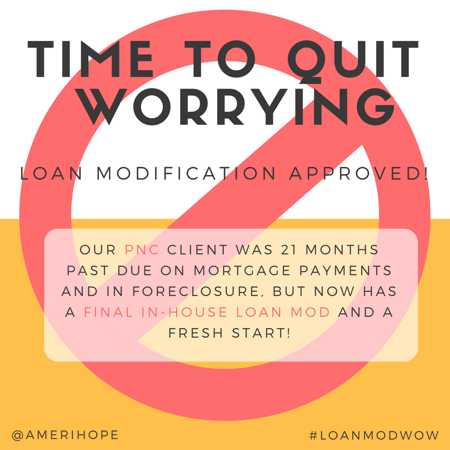 Disclaimer: These results should not be taken as a guarantee, as each case is unique. We have helped over 7,000 homeowners. Here are a few of their stories.
Every week we obtain loan modifications for our clients with a variety of loan servicers. You can see these results as they are announced on Twitter (#loanmodwow) or Facebook. Here are some of our results from this week with PNC:
PNC
Our PNC client was 21 months past due on mortgage payments back in May when we obtained a Trial Loan Modification for them. There was an active foreclosure case.
After making their 3rd trial plan payment (a few days early), our clients were almost instantly sent an offer of permanent modification. The final modified payment is about $30 less than the trial plan payments, and now our firm is beginning the process of seeking dismissal of the foreclosure case.