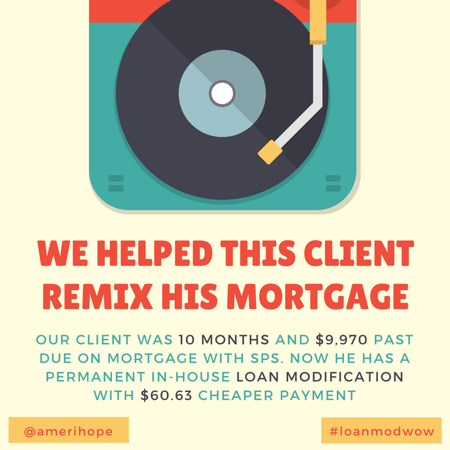 Disclaimer: These results should not be taken as a guarantee, as each case is unique. We have helped over 7,000 homeowners. Here are a few of their stories.
Every week we obtain loan modifications for our clients with a variety of loan servicers. You can see these results as they are announced on Twitter (#loanmodwow) or Facebook. Here are some of our results from this week with Bank of America, PNC Bank, and SPS:
SPS
10 months past due on mortgage payments to SPS, our client now has a final in-house loan modification with $60.63 cheaper payment!
Bank of America
Bank of America client was $11,881.60 and 32 payments behind on second mortgage, but now has a capitalization modification trial payment plan!
PNC Bank
Our PNC Bank client was 15 months and $26,844 past due on mortgage, now has a three month FHA-HAMP trial loan modification and fresh start!
BONUS: Three Client Reviews on Trustlink
Our firm received three 5-star client reviews on Trustlink this week.
March 16, 2017

⭐⭐⭐⭐⭐

We want to thank all the staff that provided help to my husband, Kevin F, and myself, Barbara F, in this very trying time of our life. Your staff, especially Ruth Gross, were very helpful and always quick to respond to our needs. I would recommend this company to anyone who would be in need of legal assistance. Thank you again, Barbara F. View Barbara F's review on Trustlink

March 12, 2017

⭐⭐⭐⭐⭐

Thank You Rosie Delgado I have had hard time with many company's that said they would help me. Rossie Delgado is the first person that lived up to her word, whenever I ask a question or needed help she would get back to me with the answer I needed in a timely manner again Thank you Rosie and Amerihope for helping me with my mortgage modification View Anthony D.'s review on Trustlink

March 10, 2017

⭐⭐⭐⭐⭐

Thank you from the bottom of my heart to Ruth Gross. Her caring and patience along with understanding and professionalism are beyond measure! She put up with all my screw ups no matter what and made sure EVERYTHING got done properly. ALL DUCKS IN A ROW! Without her we surly would have lost our home. If I owned a business I would want all my employees to be RUTH!. Thanks also to Alida and Debbie Volpi for all they did. sincerely and with great appreciation David K. View David K's review on Trustlink