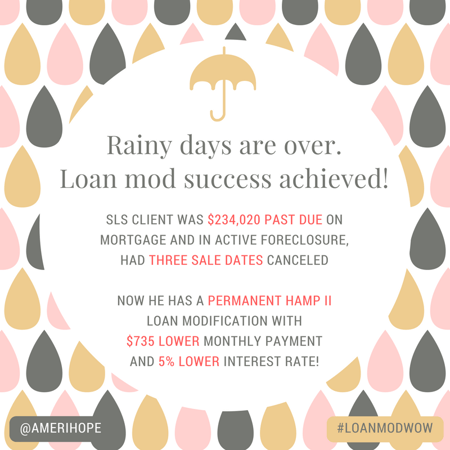 Disclaimer: These results should not be taken as a guarantee, as each case is unique. We have helped over 7,000 homeowners. Here are a few of their stories.
Every week we obtain loan modifications for our clients with a variety of loan servicers. You can see these results as they are announced on Twitter (#loanmodwow) or Facebook. Here are some of our results from this week with SLS, Ocwen, SPS, Regions Bank, and Seterus:
SLS
$234,020 past due on mortgage with SLS, our client was in active foreclosure and had three sale dates canceled, now has a permanent HAMP II loan modification with $735 lower monthly payment and 5% lower interest rate!
$38,000 and 17 months past due on mortgage payments to SLS, our client now has a 3-month HAMP trial loan modification with massive $397.37 monthly savings!
Ocwen
30 months and $62,521 past due on mortgage with Ocwen our client has a trial loan modification plan to get their mortgage back to normal.
See some more Ocwen loan modifications here.
SPS
Final HAMP loan modification approved for our SPS client that gives them a $164.44 cheaper payment and much lower interest rate!
Regions Bank
Our Regions Bank client was 10 months past due on his mortgage, but was just approved for a three-month trial loan modification that lets him stay in his home with opportunity for permanent resolution!
Seterus
Our Seterus client was 16 months and $15,364 past due on mortgage, now has a final loan modification with a lower monthly payment!