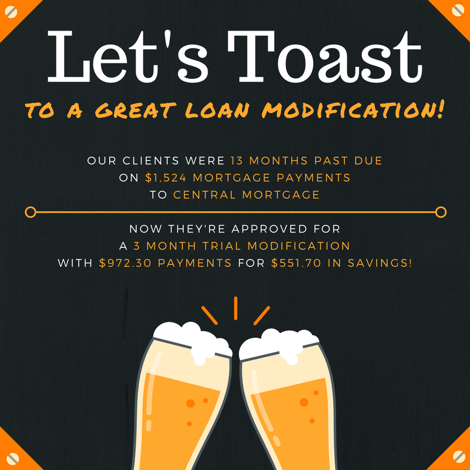 Disclaimer: These results should not be taken as a guarantee, as each case is unique. We have helped over 7,000 homeowners. Here are a few of their stories.
Every week we obtain loan modifications for our clients with a variety of loan servicers. You can see these results as they are announced on Twitter (#loanmodwow) or Facebook. Here are some of our results from this week, which include results from Chase, Statebridge, Ditech, and SLS:
Central Mortgage
Trial modification payments drop by more than a third, from $1,524 to $972.00, for our client 13 months past due with Central Mortgage.
Chase
Our client was 3 months past due on their second mortgage payments to Chase, now they have an in-house trial loan modification with $183.71 monthly savings!
Statebridge
15 months and $21,251 behind on mortgage with Statebridge, our client is approved for a loan modification with $438 cheaper monthly payment.
Ditech
Yes! 3 month trial loan modification plan approved for our Ditech client who was 13 months past due on his $2,474.00 mortgage payment.
SLS
47 months past due on $2,073.00 mortgage payment with SLS, our client was approved for a HAMP tier 2 trial loan modification with $185.00 cheaper payment!
CitiMortgage
More than 2 years past due on mortgage payments with Citi, our client is approved for a permanent loan modification with a lower interest rate.
US Bank
Our US Bank client has a fresh start with a three month in-house trial loan modification plan and the cancellation of their enormous $147,037 balloon payment.
Wells Fargo
After falling 18 months and $21k past due to Wells Fargo, our client was granted a trial loan modification with $356 monthly savings and lower interest rate.
Fresh start! FHA HAMP trial loan modification with lower interest rate approved for our Wells Fargo client who was 17 months and $24,171 past due.
Caliber
Payment reduced from $1,224.00 to $931.00 with permanent loan modification for our Caliber client who was 2 months past due on mortgage.