We would like to apologize in advance for the possible delay in our response time while we prepare ourselves for the approach of Hurricane Dorian.

Our office will be closed on Monday for Labor Day, and office is tentatively open on Tuesday, September 3rd, but will be monitoring the hurricane closely and will keep you updated. Keep an eye on our Facebook page for news.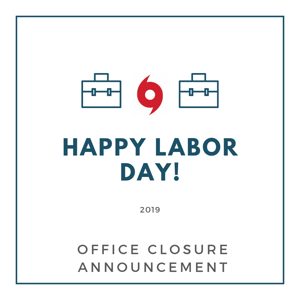 Clients: Please be advised that we have made arrangements for ALL upcoming hearings and urgent matters in the next two weeks. If our office loses power or our phone lines in the coming days you can always log in to your case.
You can post messages in the system even during the storm and while we assess any possible damage to our building, phone, or internet services. As Floridians are known to say, we urge anyone who may be affected by the storm to hope for the best, but prepare for the worst.
Hurricane Preparation Tips from the Ready.gov
Happy Labor Day
To our clients in other states, we wish you a happy and safe Labor Day Weekend.
Our Advice: Make Your September Mortgage Payment Now
Months, and even years, after Hurricane Irma (Sept. 2017) hit Florida, we heard from many homeowners who were offered "help" after missing their mortgage payments. They ended up in foreclosure.
We encourage ALL Florida homeowners to make sure their September mortgage payments are made in advance of Hurricane Dorian's arrival.
In addition to physically protecting your home by covering your windows, if necessary, you should also guard against threats that could cause you to lose your home to foreclosure. If your bank offers you a disaster-related forbearance, make sure you understand what the consequences of it are. And don't take the bank's word for anything. Get offers in writing.