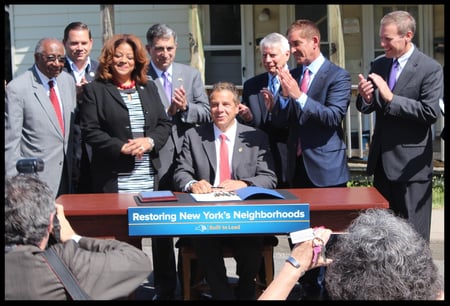 New York Governor Andrew Cuomo recently signed legislation intended to prevent foreclosures and reduce the harm done by zombie properties in the Empire State.
Homeowners in New York already have some advantages that people in some other states don't. New York is a judicial foreclosure state, which means the bank has to go through the courts to foreclose on your home. That takes longer and affords homeowners more time to find a resolution.
Also, settlement conferences, which are a mediation between you and your lender, are mandatory for most foreclosure cases in New York. The purpose of the conference is for you and your bank to meet in person and come to some agreement that doesn't involve foreclosure.
The common foreclosure alternatives to be discussed at the settlement conference include loan modification, short sale, deed in lieu of foreclosure, and forbearance agreement. The settlement conference is a serious negotiation and whether or not you'll be able to keep your home or find the best solution depends on the outcome.
Your bank is going to have a qualified attorney at the conference advocating for their interests, and so should you. It's not the appropriate time or place to pretend like you're an attorney. Remember the saying "He who represents himself has a fool for a client."
You need someone to keep the bank honest and aggressively assert your rights. We've represented clients at settlement conferences in New York where the bank's attorney made claims that they couldn't prove. We demanded that they back up what they said, and that the homeowner be allowed to stay out of foreclosure until that happens or another solution is reached.
The only foreclosure alternative for most homeowners that allows them to keep their home is a loan modification. Unfortunately they can be quite difficult to get and most people who apply on their own are denied. The knowledge and experience of a qualified attorney can increase your odds of success with your loan modification.
The other component of the new legislation is to fight zombie homes, which are properties left vacant after foreclosure. New York has the second worst rate of zombie foreclosures in the country, and it's not good for property values or the communities that have these vacant homes.
"For each zombie home that we cure and for each that we prevent with this legislation, we are saving entire neighborhoods from the corrosive effect of blight and neglect,"

Governor Cuomo said.
Details of the new efforts to fight zombies are below.

Time will tell if the new legislation in New York actually helps prevent foreclosures and vacant homes. But none of these new measures make having a qualified attorney on your side any less necessary. The foreclosure process is still complex and the services of an experienced foreclosure defense attorney are invaluable for getting the outcome you want.
Here are details from the governor's website on how the legislation will:
Strengthen Home Foreclosure Prevention Services
Enhance the Effectiveness of Mandatory Settlement Conferences: The mandatory settlement conferences became law in 2010 to slow foreclosure and give homeowners a better chance to fight the foreclosure. Since its creation, the number of foreclosure default judgments has declined from 80% to less than 20%. This legislation will enhance the effectiveness of settlement conferences even further for homeowners by prescribing the rights and duties of the parties and clarifying how the process should work to best protect homeowners contesting foreclosures and prevent them from losing their homes.
Establish a Consumer Bill of Rights informing property owners of their rights in foreclosure proceeds to prevent people from losing their homes: Some homeowners vacate their homes early in the foreclosure process because they are unclear about their rights or face pressure to vacate. The enhanced notice requirements established with this legislation will alleviate this confusion and reduce the resulting abandoned properties by explicitly informing homeowners of their rights.
Create the Community Restoration Fund (CRF), a new tool for the State of New York Mortgage Agency (SONYMA) to assist homeowners facing mortgage foreclosure. CRF will purchase defaulted mortgage notes from other lenders and offer favorable mortgage modifications to keep homeowners in their residences. CRF will have the ability to forgive a portion of a loan's principal and make the loan affordable in areas where home values have declined or where a homeowner has experienced a decrease in income.
Combat The Blight Created By Vacant And Abandoned Properties
Impose a pre-foreclosure duty on the banks and servicers to maintain vacant and abandoned properties: Previously, a bank or mortgagee had the responsibility of maintaining a vacant property once a judgment of foreclosure and sale was obtained, creating zombie properties and blight in communities. This legislation places the maintenance obligation on a mortgagee when the mortgagee becomes or should have become aware of the vacancy. Under this law, the bank has a duty to maintain and secure a residential real property where there is a reasonable basis to believe it is vacant and abandoned, and faces civil penalties up to $500 per violation, per property, per day for failing to do so.
Expedite foreclosure for vacant and abandoned properties: The legislation offers plaintiffs an option for an expedited foreclosure process on bonafide vacant and abandoned properties that homeowners no longer want. To initiate this process, plaintiffs would make an application for an order to show cause upon notice seeking entry of judgment of foreclosure and sale on the grounds that the property is vacant and abandoned.
The legislation requires a foreclosing party to move to auction within 90 days of obtaining a foreclosure judgment. In addition, a foreclosing party would be required to take action to ensure that the property is reoccupied within 180 days of taking title.
Establish electronic registry of vacant and abandoned properties. The legislation will promote communication between local governments and mortgagees responsible for property maintenance.
In cases where homes are vacant, CRF will offer a mechanism to expeditiously complete a foreclosure and work with land banks, Community Development Financial Institutions, and other local nonprofits to rehabilitate properties and resell them to new buyers.
Governor Cuomo also announced the creation of a new hotline that New Yorkers can call to report vacant and abandoned properties across the state. The number for the hotline is 800-342-3736.