Disclaimer: These results should not be taken as a guarantee, as each case is unique. We have helped over 5,000 homeowners, here is one of their stories.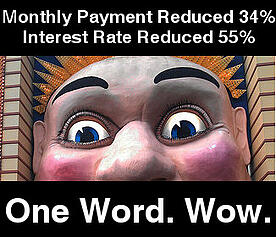 Imagine if you had hired a law firm to help you save you and your family's home, but that law firm ended up splitting up and forgetting about your case. This homeowner faced that exact situation, and needed reliable help to help him ensure that his home stayed in hiMortgage s possession.
"We Just Want To Get Caught Up"
This homeowner and his wife had suffered through job loss and had fallen two years behind on their $1,861 monthly mortgage payment to Select Portfolio Servicing (SPS) before retaining us, but was now in a more advantageous financial situation. As a matter of fact, in the homeowner and his wife simply wanted to "get caught up on (their) loan- (their) financial situation has now changed and they're able to make regular payments." They had been previously served foreclosure, but they believed that case had since been dismissed by their previous law firm. The couple were afraid that they could be served again and needed our help.
Working With The Homeowner
Our home retention department began working with the homeowners to get the necessary documents and information together to create a loan modification package that would be accepted by their bank. Concurrently, our legal team began taking the necessary steps to ensure that the home would not be foreclosed on during this time, because they learned that the foreclosure had not, in fact, been dismissed.
By June 2013, the homeowner had submitted all the necessary documents for a loan modification. He received a trial loan modification offer from SPS by the end of the month. Under the terms of this plan, he would now pay $1,191 per month for 3 months. If he fulfilled the terms of the trial loan modification, then he would be offered a permanent loan modification.
Completing the Terms

The homeowner completed the terms of the trial loan modification, and received a permanent loan modification. His permanent payment is now $1,205 each month, a far cry from the $1,800 he was originally paying. His interest rate is now fixed at 4.125%, which is less than half of the 9.25% he was paying before. The account is now considered current, and our attorneys are now free to have the foreclosure case dismissed.
SPS Trial to Permanent Loan Modification Overview

November 2013

Before

After

Monthly Payment

$1,838.81

$1,205.08

Interest Rate

9.25%

4.125%

Foreclosure

34 Months Past Due ($63,010.38) Past Due, Foreclosure Active

Foreclosure to be dismissed.


Benefits to Homeowner

✓ $43,081.94 Principal forgiveness, $3,755.49 in fees waived.




✓ Monthly payment reduced by 34%
This case proves why it's important to hire a highly qualified foreclosure defense attorney to help you get through a period of re-stabilization. This homeowner was originally only seeking our assistance in helping him to obtain a loan modification and had no clue that his house was within the foreclosure process. We were able to help him completely salvage his situation by getting him a loan modification, and stopping the foreclosure case on his house.
photo credit: humanstatuebodyart via photopin cc