Disclaimer: These results should not be taken as a guarantee, as each case is unique. We have helped over 5,000 homeowners, here is one of their stories.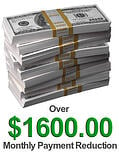 When we were retained (hired) by this New York homeowner in March 2013, the homeowner was several months past due on his Ocwen mortgage. Within 6 months, we changed his dire situation into a bright one.
This homeowner had experienced several hardships; the economic downturn had severely affected his business, and Superstorm Sandy didn't make matters any better. His mortgage payment was $3,659; high even by New York City standards. Worst of all, the homeowner was in grave danger of foreclosure.
A New Beginning

As soon as this homeowner retained us, our home retention department began working with him to create a complete loan modification package, and our legal team set out to stop any foreclosure action that may have taken place (there were none). Within six months of original retention, we received a loan modification offer from Ocwen. Ocwen offered a trial payment plan (a full loan modification will be finalized in December 2013) with a reduced payment of $2048.78; that's a 44% decrease from the original! We look forward to the homeowner completing his payment terms and receiving a full loan modification from Ocwen in the near future.
Ocwen Loan Modification Overview

August 2013

Before

After

Monthly Payment

$3659.51

$2048.78

Interest Rate

6.00%

Will know with final loan modification

Foreclosure

9 Months Past Due, Sale Date Set

Threat of Foreclosure Averted

Benefits to Homeowner

✓ $143,446.40 Principal Reduction




✓ Monthly payment reduced by 44%, saving $1610.73 per month
This successful loan modification is an example of why it's so important to hire a foreclosure defense attorney to get you the best loan modification result possible. Amerihope Alliance Legal Services concentrates on providing legal counsel to help homeowners avoid foreclosure or have the best chance at a bright financial future. We've helped over 5,000 homeowners save their homes since 2008, and are looking forward to assisting even more people in the future.