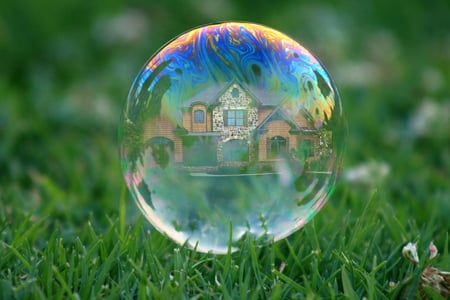 Ten years ago a a real estate bubble burst that caused roughly 8 million homes to be lost to foreclosure.
Since then, there's been a sustained recovery that, while sometimes slower than what's been desired, has gradually brought us to where we are now.
Where are we now? Home prices are up (at all time highs in some markets), foreclosures are down to pre-recession levels, most people who want a job have one, and the stock market is at historic highs.
About to Burst?
Still, some deep scars remain. Many people are paranoid that the hammer could drop on us at any time, that all the good things we've been experiencing have only been a temporary respite.
So, is everything good that's been happening in recent years just another bubble being inflated, which will soon pop and leave us in another crisis as bad or worse than the one we recently escaped? I asked this question in 2015 and 2016. Both times the consensus among the experts was no.
In 2017, the experts still think that the answer is no, we are not in a housing bubble.

A recent report by RealtyTrac provides detailed data to support this conclusion. The report quotes Christopher Thornberg of research and consulting firm Beacon Economics: "There's no housing bubble. Not even close. There are three basic worry indicators and all three were very scary in 2005 and all three today suggest, if anything, that the housing market is still in the process of recovery instead of being near a new bubble."
Thornberg's three basic reasons are:
Affordability. In 2005, home affordability was going down as homes were being built at a furious pace.

Too much housing supply. The speed at which homes were being built in the years leading up to the crisis has been described as "out of control". Thornberg says that, in 2005, a million more housing units were built than were needed.

Abuse of leveraged debt. To sell all the homes during the boom, anyone with a pulse could get a mortgage loan, often with no money down. And some of these loans were "creative" loans that didn't require adequate documentation of their income. You might have heard them called liar's loans, no-doc loans, or NINAs (no income no assets).
Current conditions are much different. Now lending standards are tighter, there is not an oversupply of housing, and buyers are not as highly leveraged. It doesn't look like a bubble. But there are concerns.
Current Housing Concerns
For one, wage growth has not been keeping up with the increase in home prices. RealtyTrac's report showed that "annual home price growth outpaced annual wage growth in 363 out of the 447 counties (81 percent) surveyed."
And home prices are quite high in many areas of the country, which can make purchasing a home a challenge, especially for first-time buyers looking for an entry level home.
Interest rates are also going up, and are expected to continue to rise in 2017, which will make buying a home more expensive.
There's also a very low supply of homes on the market and high consumer confidence, which makes for a lot of competition for the homes that are available. In February of 2017 the average home was on the market for only 60 days compared to 68 days in February of 2016. Real estate brokerage Redfin records February 2017 as the fastest market since it began tracking the data in 2010.
Higher prices are, of course, good for homeowners and sellers, but it could also help entry-level buyers. Nela Richardson, chief economist at Redfin said in a recent CNBC interview "Rising prices and increased equity may tip the scales for homeowners who have been delaying their decision to move up, which could add much-needed starter-home inventory to the market."
So, rather than a real estate bubble with too many homes being built and bought, it looks like we actually need more homes. Another bubble could develop in the future if conditions change. And remember "no one can see a bubble, that's what makes it a bubble."
Your decisions about your home and personal finances shouldn't be based on your expectations about what the housing market is going to do in the future. That's impossible to predict exactly. What you can do is put yourself in the best position to endure potential hardships. That means being careful with your money and planning for a rainy day.
If you get into trouble with your mortgage, it doesn't matter whether it was caused by a nationwide bubble or not. What you should do remains the same. Get advice from experienced attorneys who can give you the best chance of getting the outcome you want.
Image courtesy of arztsamui at FreeDigitalPhotos.net