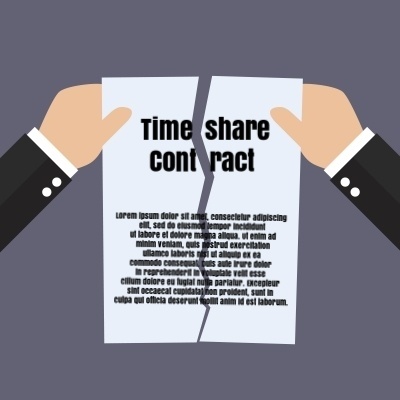 Do you want to cancel your timeshare? If you're like most people who've purchased a timeshare, then the answer is yes. 85% of all people who buy a timeshare regret their purchase.
It's no wonder. Timeshares are not a good investment, the fees associated with them increase over time, and people often feel that they didn't have all the facts at the time they signed the contract.
Fortunately, there are ways out. If you decide that purchasing a timeshare was a mistake soon after signing the contract, then you may be able to rescind the contract. If you can do that, then you will be out of your timeshare contract and should be refunded any money you spent. Like it never happened.
Step 1: Find out how long your rescission period lasts.
The first thing you'll want to do is to find out how long your rescission period is. It ranges from 3 to 15 days in most states, so you won't have a lot of time to spare even in the best circumstances. Look at your contract to find out how much time you have.
If the rescission period hasn't expired yet, the contract should tell you what you need to do to cancel your timeshare contract. Follow the instructions in the contract exactly! Some contracts will contain a timeshare cancellation form that you can fill out and send in. Or, you may need to send a timeshare rescission letter.
Step 2: Write a timeshare rescission letter.
If you need to send a timeshare rescission/cancellation letter to the resort/developer, it will need to contain the following:
The names on the timeshare contract.

The number of your timeshare contract.

The name of the timeshare company.
The date you purchased your timeshare.
The reason you're writing. (Tell them that the purpose of your letter is to cancel your timeshare contract, and that you have the right to do so according to your contract and state law.)

A request for all money paid to be returned and for your loan to be canceled, if applicable.

Sign and date the letter.

Again, make sure to read everything in your contract and include any information that's required. Don't give them a reason to deny your request.
When you've written the letter, send it as soon as possible since the clock is ticking. Send it to the address that the contract requires, which may be different from other addresses associated with the timeshare. And be sure to send it by by certified mail so that you have proof it was sent and received within the required time period.
Step 3: Confirm your timeshare cancellation.
If you did everything right, then you should get confirmation that your timeshare contract has been canceled. If you don't hear anything within a few weeks, contact the resort to see if something is preventing the rescission/cancellation.
You can write a timeshare rescission/cancellation letter on your own, but since it's so important to get this right, you should consider hiring an attorney to help you write it.
If the rescission time period has already passed, then you'll need some other means to get out of your timeshare. It may be possible for you to deed the timeshare back to the resort or donate it to charity. You can learn more about methods of timeshare cancellation here.
Images courtesy of Sira Anamwong and Ben Schonewille at FreeDigitalPhotos.net