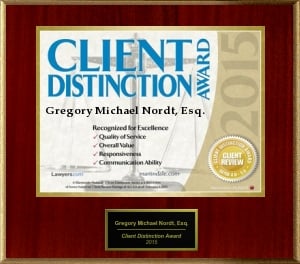 For the third year in a row, Gregory M. Nordt, ESQ is a Martindale-Hubbell® Client Review Rated Lawyer of Distinguished 4.4 out of 5 as of January 1, 2015 based on his client reviews of four main areas of question:
Communication Ability
Responsiveness
Quality of Service, and
Value for Money
The Client Review Rating Score is based on a scale of 1.0-5.0 with 5.0 as the highest score achievable. Martindale-Hubbell® Client Review Ratings provide comprehensive and objective information about lawyers and law firms and help buyers of legal services make informed decisions when retaining a lawyer.
When asked how he felt about receiving this award Mr. Nordt said, "It is an honor to receive this distinction and prestigious industry award for the third year in a row. I hope to continue to do the work that supports my selection by my clients and peers. It is with great satisfaction that our clients remain our top priority here at Amerihope Alliance Legal Services. This recognition is proof of their confidence in us. Their review comments, proof of their happiness with our service." he went on to say "I am humbled that there are people with personal and financial hardships whom are so appreciative. On behalf of our amazing staff, to be nominated by them is quite an honor."