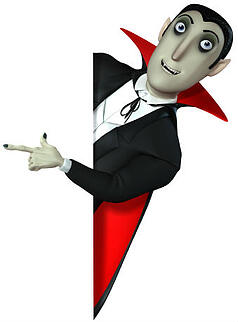 Chances are, there are real vampires in your neighborhood right now, and no silver bullet can stop them.
Vampire foreclosures are a real phenomenon that is sweeping the nation. The term was coined by housing statistics provider RealtyTrac to describe homes that are being lived in by the original homeowners, but have been seized by a bank. According to RealtyTrac, 250,000, or nearly half of all bank-owned homes fall within this category, and this number won't be falling anytime soon, although these homes will eventually have to hit the market.
Zombies and Vampires Are Everywhere
If you're familiar with housing lingo, you may be wondering if these vampire foreclosures are the same thing as "zombie" foreclosures. They aren't. Zombie foreclosures are foreclosures in which the homeowner abandons the home after a foreclosure sale date has been set, only to find out that the house never was sold or the title was never transferred over. This means that fees such as homeowners association fees, maintenance fees, and property taxes are still piling up on the property, which eventually wrecks the original homeowners' credit. There are tons of zombie foreclosures too: all in all, vampire and zombie foreclosures make up about 67 percent of all foreclosures.
Where Do Monsters Hide at Night?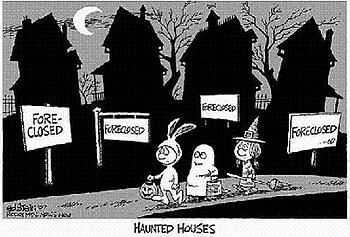 Vampire foreclosures are especially prevalent in states like Virginia, Nebraska, and Texas, where there are non-judicial foreclosures with short timelines and homeowners generally have equity in their homes. Experts believe that this is because homeowners in these states don't have adequate time to prepare for the prospect of foreclosure, and they also believe that the homeowners are more motivated to fight against what they feel are unjust foreclosures. Only time will tell how these homeowners deal with forced eviction from their homes when that time does come.
Zombie foreclosures, on the other hand, are more prevalent in states where there is a high rate of foreclosure and a very long foreclosure process. In these states, many homeowners are just walking away from their home instead of dealing with the stress of the foreclosure process. Florida is the king of zombie foreclosures, and they are also prevalent in states such as New Jersey, California, and Nevada.
Why Not Sell the Homes?
So if a bank is able to sell a home, then why are they holding on to them? As you've probably guessed, it's all about the money. In the case of zombie foreclosures, banks are holding back on selling these homes in order to artificially inflate home prices and stem the housing recovery. If all 400,000 zombie and vampire foreclosures were to hit the market at once, housing prices would drop and the housing recovery would actually slow down. Also, vampire foreclosures save banks the costs associated with maintaining a vacant home, which can cost tens of thousands of dollars per year. Of course, the downside of vampire foreclosures is that when the bank finally decides to sell the house, it puts the family inside the home in a tough spot.
Don't let your home become a vampire or zombie. If you are facing the prospect of foreclosure, get help! A good first step is to determine whether or not you should hire a foreclosure attorney to help you. Click the button below to take a quiz to see where you stand.