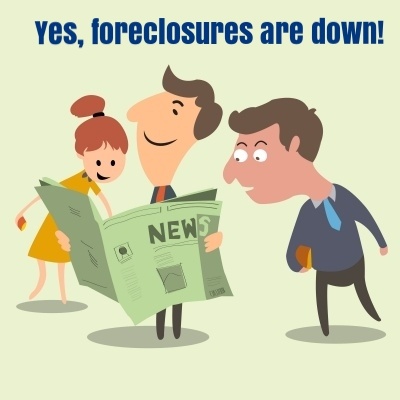 The recent financial crisis, housing crisis, and recession really did a number on homeowners. You didn't have to be an economist or real estate expert to know that there was a sharp increase in the number of foreclosures. All you had to do was turn on the news and you'd hear about it, or drive through any residential neighborhood and see the signs in front yards.
About seven million homeowners have experienced foreclosure since the start of the crisis. The wealth homeowners held in their homes evaporated as jobs were lost. That left many homeowners in the terrible position of being unable to afford their mortgage payment or sell their home because they owed more on it than it was worth.
Foreclosure and Delinquency Dropping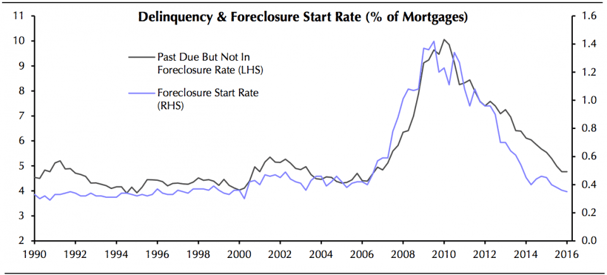 Fortunately, after peaking around 2010, the delinquency and foreclosure rates have been declining, and home values have been rising. In 2016 the data on housing has continued to be good.
According to a report from the Federal Reserve Bank of New York:
"About 83,000 individuals had a new foreclosure notation added to their credit reports between April 1 and June 30, a new low in the 18-year history of the data."
In July of 2016 banks started foreclosure on 36,863 residential properties. That's a 5 percent drop from June and a 19 percent drop from July of 2015.
We now have the lowest number of new foreclosures since 1998.
The delinquency and foreclosure rate for U.S. mortgages is now about at its historic average. Delinquency describes homeowners who are behind on their mortgage but not in foreclosure.
So, why the improvement? A recent article from Business Insider gives four reasons:
Historically-low interest rates are making it easier to deal with debt.
Labor market and wage growth has put many homeowners in a better financial position.

Better lending standards since the financial crisis have led to better quality mortgages.

Many of the poor-quality loans from the housing crisis have been flushed out of the system.

Some States Still Struggling
So, does that mean the housing crisis is over? Some say yes, but keep in mind that the foreclosure rates are the national average, and the housing recovery has been uneven. Some states and regions have very serious problems.
Nationwide, one in every 1,540 housing units had a foreclosure filing in July of 2016. But the top five states for foreclosures were Delaware (one in 570); New Jersey (one in every 610); Maryland (one in every 772); Nevada (one in every 805); Florida (one in every 808).
The rates can be even worse when looking at specific regions. In Atlantic City, New Jersey, one in every 232 housing units had a foreclosure filing in July, 2016. Next are Trenton, New Jersey (one in every 515); Lakeland-Winter Haven, Florida (one in every 565); Deltona-Daytona Beach-Ormond Beach, Florida (one in every 568); and Tampa-St. Petersburg-Clearwater, Florida (one in every 698).
Florida and New Jersey have been struggling with foreclosures for a long time and have been at or near the top of the list for a long time now, though they are improving.
Negative Equity Remains A Problem
The number of foreclosures isn't the only thing to be taken into consideration. Although home prices have been rising, there were still about 6.7 million homeowners who were seriously underwater in the second quarter of 2016, according to data from RealtyTrac. That represents about 12 percent of mortgaged properties in the country, which is a reduction from the previous quarter and the same quarter in 2015.
Daren Blomquist, senior vice president at RealtyTrac says, "Rising home prices are lifting all home equity boats: bailing out seriously underwater homeowners and enriching homeowners who already have positive equity."
So the trend is going in a positive direction for both the number of foreclosures and home values. But it really doesn't matter what the trend is in your state or the country if you're dealing with the possibility of foreclosure. And home values are pretty much irrelevant if you don't want to sell your home.
If you're having problems with your mortgage, but would like to keep your home, consider applying for a loan modification. There is the federal government's Home Affordable Modification Program (HAMP), and banks also have their own in-house modification programs. While it's free to apply for a loan modification, most who do so on their own are denied.
If you think a loan mod could help you, consider working with an experienced professional. Our firm has helped homeowners who haven't paid their mortgages in nearly a decade secure a loan modification that reinstates their mortgage with a lower monthly payment.
Image courtesy of jesadaphorn at FreeDigitalPhotos.net. Graph from Capital Economics.