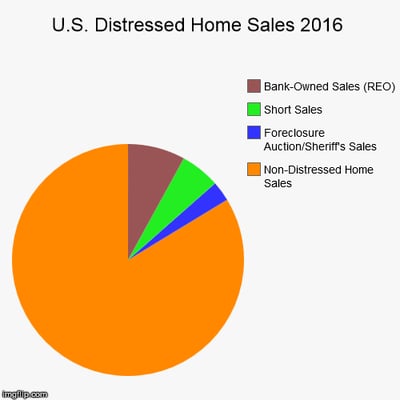 Distressed home sales made up 16.2% of all homes sold in 2016, which is a drop of more than two and a half points from 2015, and a smaller percentage of home sales than in any year since 2007, according to ATTOM Data Solutions Year-End 2016 U.S. Home Sales Report.
A distressed sale is a bank-owned sale, short sale, or foreclosure auction sold to a third party buyer. Basically anything other than a regular sale of a home in which the seller has equity is considered a distressed sale. It's a good thing the number of distressed sales are down.
The distressed sales numbers breakdown as follows. REO (Real Estate Owned) sales, also called bank-owned sales, were 8% of all sales in 2016, which is down two points from 2015 and the lowest level in 10 years.
Short sales made up 5.5% of all home sales in 2016, which is also down from the year before and the lowest percentage since 2008.
Foreclosure auctions and sheriff's sales accounted for 2.8% of all sales in 2016, which is a slight drop from 2015, and the lowest level since 2007.
Of course everything with real estate is about location. And, while the numbers for the country as a whole are good, some regions are not doing so well.
Areas of the country that had the highest percentage of distressed sales include Atlantic City, New Jersey with an incredible 43.8%, followed by Hagerstown-Martinsburg, Maryland-West Virginia (33.2%); Rockford, Illinois (29.2); and Baltimore, Maryland (28%).
Home Prices Up In 2016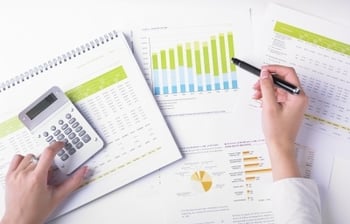 Lower distressed sales aren't the only good news for 2016. The average price of a home was at a 10-year high. It's been a great market for sellers, who have been making big profits.
The median price of a home sold in 2016 was $218,175, which is up an impressive 6.8% from 2015, and only slightly lower than the peak before the recession in 2006 when the median price was $219,000. (Median home prices bottomed out in 2011 during the recession at $150,511.)
Foreclosure Auctions Sold To Third Party At 16-year High
2016 had the highest percentage of foreclosure auctions (28.5%) going to a third-party buyer since 2000. The rest (71.5%) went back to the lender. 2016's numbers are five percentage points higher than 2015's. It's good when a foreclosure auction goes to a third-party buyer rather than back to the lender, and shows a healthy demand for real estate.
The news on distressed home sales follows a report from ATTOM in January, which showed that foreclosure activity in 2016 was at it's lowest level in a decade. Most of the numbers that measured anything bad related to housing in 2016 were down, often to the lowest level in about a decade.
One change that happened last year that wasn't so great was that the government's loan modification program, HAMP (Home Affordable Modification Program), expired. It's no longer possible to get a HAMP loan mod unless your application was in by December 30, 2016.
However, in-house loan modifications, which are modifications given by lenders according to their own standards, are still available. And a new program called Flex Modification will be available for Fannie Mae and Freddie Mac loans starting in March.
Loan modifications are the only tool many distressed homeowners have for remaining in their home, returning their loan to normal, and avoiding foreclosure. Sometimes the loan is reinstated with a more affordable payment and reduced principal. We have many resources on this site that provide information and advice on how to get the best loan modification, including free consultations with our legal assistants.
Image courtesy of adamr at FreeDigitalPhotos.net