Since its beginnings in 2007, the foreclosure crisis' effects were felt by people across every layer of social strata. Given the lavish spending habits of the rich and famous, it will probably serve as no surprise that some to the biggest names in entertainment suffered harshly during the economic downturn and endured foreclosure like millions of other Americans. Here are 6 celebrities that have experienced the worst part of the Great Recession; some in more interesting ways than others.
1. Rihanna
In 2009, Rihanna purchased a $6.9 million mansion in Beverly Hills, California. Allegedly, flooding from a "moderate rainstorm" in 2010 caused "extensive damage" to the house, and she famously defaulted on the home and sold it via short sale for $4.5 million in 2011. Her lawyers then sued the former owners of the home and several other parties for good measure. It seems that the pop singer didn't have a good enough "Umbrella" in place. By the end of the next year, the buyer had already put the home back on the market... for $9.95 million.
2. Burt Reynolds
The mustachioed star of "Smokey and the Bandit" couldn't find "Deliverance" from the $1.2 million debt he owed to Merrill Lynch on his Hobe Sound, FL mansion. The 7-bedroom, 5-bathroom beachfront home featured lavish amenities such as two guest houses, a helipad, a movie theater and a hair salon. Just prior to the foreclosure proceedings, the home was placed on the market for $8.9 million, but there were no takers. As of now, the foreclosure lawsuit is still continuing on this property, and the price has dropped to a bargain-basement $4.9 million.
3. Terrell Owens
2011 and 2012 were not good years for the controversial football player. During these years, he couldn't find a team to play on, and he had 5 properties in foreclosure. In 2011, two condos that "T.O." owned in Dallas were short sold, and two other Dallas condos were repossessed. To add further insult to injury, his condo in Sunny Isles, FL was also short sold in July 2012 after he failed to make maintenance and mortgage payments.
4. Ed McMahon
Even Ed McMahon's legend couldn't stop him from being one of the first casualties of the foreclosure crisis. In 2008, the "Heeeeere's Johnny" voice and "Star Search" host defaulted on his $4.8 million Countrywide Financial mortgage. A real estate investor named Dan Schryer purchased the loan from Countrywide, saying that he wanted to "do a good deed" for the elderly McMahon couple and help them handle their situation "with dignity", in addition to making a personal investment for the future. Shryer arranged to have the McMahons pay rent so they could stay in their home, and they kept this arrangement until Ed McMahon passed away in 2009.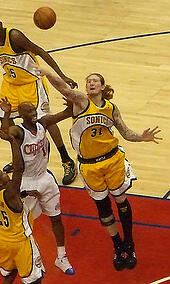 5. Robert Swift
In 2004, Robert Swift (#31 in photo at right) was talented enough to forego college and be drafted into the NBA straight from high school. In 2006, Swift purchased a $1.35 million mansion in Seattle. In 2013, he left said mansion after being threatened with forcible eviction, 2 months after it had already been purchased in a foreclosure auction by a newlywed couple. In perhaps the most bizarre celebrity foreclosure case ever, the couple discovered that Swift had been living his life in squalor since he received his initial foreclosure notice. Beer cans, guns and bullet holes (the basement had been converted to an impromptu shooting range), trash, and a "festering" odor greeted the couple when they were finally able to go into the home, and it was estimated that it would take at least 2 months of repairs before the couple would even be able to move into the home.
6. The 2010 Vancouver Olympics
The Olympics are obviously not a celebrity themselves, but in one of the more embarrassing foreclosure cases in recent memory, creditors threatened to foreclose on Whistler Blackcomb (a famous ski resort and 2010 Olympic skiing and sledding venue) just days after the 2010 winter games were to begin. Intrawest, a U.S.-based company which owns Whistler and several other ski resorts, defaulted on a $524 million payment on $1.7 billion of debt, and backers of the loan threatened to take action. They threatened to add a new event to the Olympics that year: foreclosure auction; an auction was scheduled for the first Friday of the Olympic games. Fortunately, an extension was granted on the foreclosure auction, and eventually the resort was able to avoid foreclosure.
Overall, the lesson to remember is that if great entertainers, actors, athletes, legendary late-night personalities, and even the Olympics can be threatened with foreclosure action, then everyone is at risk of being swallowed by "the foreclosure monster". Don't end up in foreclosure yourself; download our personal budget worksheet to make sure you stay on the right track financially.
photo credits: Alan Light via photopin cc; Vaguely Artistic via photopin cc