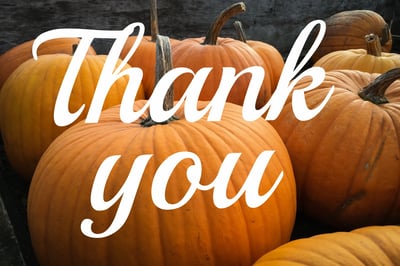 Each Thanksgiving we're all supposed to give thanks for the good things that have happened to us over the course of the year. It's a time to show appreciation and gratitude while enjoying a big meal with family and friends. A turkey is pardoned by the president, and we're all encouraged to relax and enjoy ourselves. But the troubles and difficulties of life don't take a day off just because you do. Concerns about bills, career, and relationships remain even as the focus is supposed to be exclusively on the positive.
If you're behind on your mortgage payments and worried about losing your home, you may have a hard time putting that to the side and being thankful for what you do have. Your worrying could affect your appetite or cause you to cry into your pumpkin pie. The possibility of foreclosure is a major stress indeed, and anxiety about it is completely understandable. Bad things happen to everybody, and many of them are caused by things completely beyond your control. But you can control how you respond to the problem.
In the case of the threat of foreclosure, those who hire an experienced attorney to represent them, and do so as early as possible, have a lot to be thankful for, such as:
They don't have to deal with customer service. If you call your bank for help with a loan modification or anything else, you speak to customer service representatives who are often in another country and speak English as a second language. It can be frustrating. When you have a law firm to represent you, they speak directly with the bank, and you don't have to worry about it.
They can benefit from their attorney's experience and knowledge. Loan modification applications require multiple documents and calculations to be submitted. The process can be overwhelming if you haven't done it before. A law firm that has helped thousands of clients apply for and get loan modifications doesn't hope they're gathering the right documents, they know what they're doing, what works and what doesn't, what to change when an application is denied, and what the lenders need to see to approve it. An experienced firm will also know whether a loan modification or other option is likely to succeed, and can pursue the appropriate path.
An attorney has an understanding of the financial hardships you've endured. You may have a hard time getting sympathy from people who don't understand the stress of knowing you might lose your home. There are stereotypes that anyone who experiences the threat of foreclosure must be lazy and a poor planner. In reality, most of them have experienced one or more serious hardships that made it impossible to pay all of their bills. A good attorney knows this and is prepared to help you get back on track.
An attorney knows of alternatives to foreclosure such as a loan modification, short sale, or deed in lieu of foreclosure agreement. There are resolutions a distressed homeowner can come to with their lender that can make all the difference in the world. Your lawyer should know all of them, and which is the best for you.
If you haven't hired an attorney, unfortunately, every one of the thanks listed above is a hassle you will have to deal with on your own. It's common sense that, to solve any problem that is important to you and outside of your wheelhouse, you need to work with someone who has a record of handling those problems successfully for others. Taking advantage of someone's knowledge allows you to benefit from their experience and get the results you're looking for.
If you're worried about losing your home, contact a law firm that has experience helping people in your situation. A good firm will know what the best plan of action is for you to take, and it may be something you didn't even know existed. You'll be giving thanks that you hired an experienced attorney as soon as you know that foreclosure is a possibility so they can begin defending you.