On July 5th 2014, we celebrated the 6th anniversary of Amerihope Alliance Legal Services. That meant celebrating six years of hard work from our team, six years of innovative practices and techniques, and six years of helping homeowner's dreams come true by annihilating the threat of foreclosure.
Although many say foreclosure is on a downward trend/ decline, there are still 794,000 homes nationwide in some state of foreclosure. States including Florida, New Jersey and New York are struggling with the highest foreclosure inventory in the nation. Furthermore, Florida has 116,000 completed foreclosures within the last 12 months. Here at Amerihope Alliance Legal Services we know these numbers are not just two-dimensional statistics, they reflect real people on the track to losing their homes. We are overjoyed to celebrate 6 years of helping thousands homeowners, day by day, fight the struggle the comes with losing a home. We don't let our clients become another negative statistic. To us, the 6 year mark is an incredible milestone, an amazing success that lets us know we're doing right by our clients and neighbors.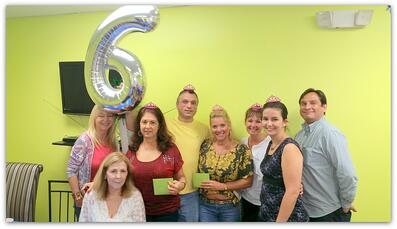 Also, we are proud to grow and keep adding stellar candidates to our legal team. Our new addition, attorney Dmitriy V. Doroshenko, is licensed in New York, Massachusetts, Connecticut and soon Florida!
In honor of this accomplishment and to celebrate summer (best season ever!), the Amerihope Alliance Legal Services team hosted an office lunch with delicious gourmet pizzas and coal fired wings from Anthony's Coal Fired Pizza in Plantation.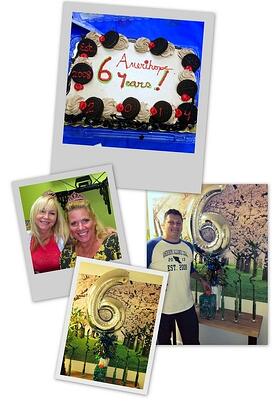 We have a staff of 26 hand-picked employees, each brings value to our team and We took a few minutes to recognize our dedicated employees that have been with the firm the longest:
Scott Porraro
Debbie Volpi
Marleny Gainza
Linda Powell
Cindy Kudart
Kristen Clinton
and Operations Managers Sherrill Clark and David Ramos.
We couldn't do it without you!
Summer Luau Potluck
In June, we had a Hawaiian themed pot luck extravaganza. The party was filled with colorful Hawaiian luau style decor, with tons of leis, flowers, drink umbrellas and even a carved coconuts. Not to mention the amount of food there could feed an army (literally). We had burgers, hot dogs, chicken, an assortment of fruit and vegetable salads, and other traditional summer fare. In the pictures you'll see us enjoying all that food, chatting and having some fun, and fun it was. We definitely celebrated in style, of course we wouldn't have it any other way!