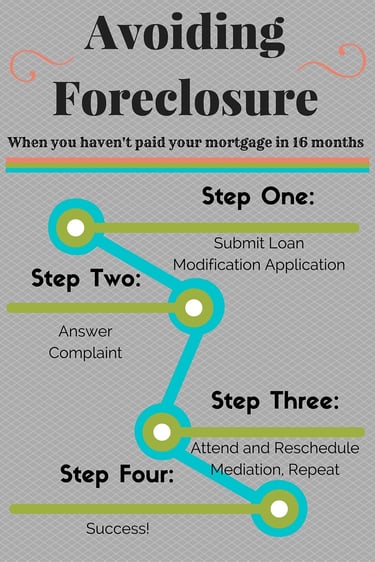 Disclaimer: These results should not be taken as a guarantee, as each case is unique. We have helped over 7,000 homeowners, here is one of their stories.

In 2008 an Illinois couple, who we'll call the Petersons to protect their privacy, purchased a home in the Chicago suburbs with a $216,464 loan from Citi Financial. By March of 2015 they had stopped making the $1,077 monthly mortgage payment because they could no longer afford it. By September of 2015 they were justifiably concerned that they would lose their home to foreclosure and hired Amerihope Alliance Legal Services to help.
Step One: Submit Loan Modification Application
Since the Petersons wanted to keep their home, getting a loan modification was the only hope they had to accomplish their goal. When approved, a loan mod will reinstate a loan and return it to normal servicing. Modified mortgage loans usually have a lower monthly payment and sometimes reduced principal as well.
We submitted the Peterson's modification application to their lender but weeks later, and while the application was under review, they were served a complaint letting them know they were in foreclosure.
Step Two: Answer Foreclosure Complaint
We responded to the complaint for our client, letting CitiFinancial know we intended to fight for our client to avoid foreclosure and keep their home.
Step Three: Attend and Reschedule Mediation, Repeat
Illinois is a judicial foreclosure state that requires lenders to go through the courts to foreclose on a homeowner's property. Our client's home is located in Will County, which requires mandatory mediation for the parties involved in foreclosure. The purpose of mediation is to have a neutral third party intervene to help resolve disputes.
Our attorney attended a mediation with the lender's attorney and asked the mediator to reschedule the mediation for a later date on the grounds that the Peterson's loan modification application was under review. The request was granted as was the next one and the next one. In total, we successfully requested a reschedule three times and attended four mediations.
Step Four: Success!
In June of 2016, 16 months since they'd made a payment, the Petersons reached their goal and were approved for a trial loan modification. Their payment was reduced by 21%, from $1,077 under the original terms of the mortgage, to a more affordable $849 in the trial modification. All they have to do now is make the trial modification payments on time and they should be granted a permanent modification.
Without an experienced law firm representing them the Petersons would have had to complete the modification application, answer the complaint, and attend four mediations all on their own. And, since they're not attorneys with experience with foreclosure defense and loan modifications, the process would have caused them even more stress than they were already under. They also would have been less likely to get the results they want.
But with experienced pros like us on the case, the Petersons could rest easy knowing that everything possible was being done to keep their home. All they had to do was get us the information we needed, and we took care of the rest.